Mark Hawkins: Handball progress hampered by lack of funding
Last updated on .From the section Handball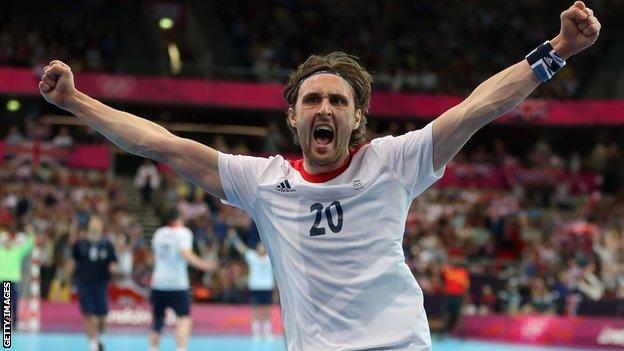 Great Britain handball player Mark Hawkins says their lack of funding from UK Sport will hamper the development of players in the long-term.
The sport received £2.92m in the run-up to London 2012 but that was cut completely in December.
He told BBC Sussex: "The funding system is weighted against team sports.
"The future is bright. We are bringing in young players; the youth teams are developing. We just need somewhere for them to go now."
Since the men's side exited the Olympics at the group stage they have been involved in qualification for the European Championship in 2014.
However, last month's defeat against Italy could prove to be their last competitive international match as the sport has been unable to finance staging any future fixtures.
Horsham-born Hawkins, who had playing spells in Denmark and Iceland ahead of the Olympics, has not played for a club side since London 2012 but has been involved in coaching the next generation of players.
"I took an England Under-16 group to Sweden a couple of weeks ago, had an incredible result there and will be working with the under-18 squad in Denmark in a few weeks' time," the 27-year-old said.
"We are doing our best to bring through the youth players to put them in a position that, with the current squad, we can go and knock on the door and demand funding because we are at that level.
"We can't change it now so we are looking to the future and looking to progress while developing young players and playing the best we can."
UK Sport's "no compromise" philosophy channels resources towards athletes and sports with the greatest chance of succeeding on the world stage, which saw the withdrawal of funding to handball ahead of Rio 2016.
"I can understand their decisions but our argument would be that this is not what we were told for the previous four years about how things would be and what we needed to do," the winger said.
"There just needs to be some consideration for team sports, what they need and for developing sports that basically start from scratch like us, water polo and volleyball.
"You need more time for a team sport to develop than an individual in an individual sport.
"It takes not necessarily a continued investment of money but also a development of time. We only had five or six years and that is the frustrating part.
"The decision is what it is. There is nothing we can do about it and we came to terms with it quite quickly."
Hawkins says Great Britain's bid to qualify for next year's tournament, which was ultimately unsuccessful, was hampered by their lack of funding.
"We got stronger towards the end of the group but we were impacted hugely by the lack of budget as we couldn't afford a full strength team," he said.
"We eventually travelled to Italy for our final game with 12 players out of a possible 16, which is unheard of.
"It is tragic it has come to this. We put in an excellent performance and came close to getting an away win.
"Up until the Olympics I was completely self-funded. From three years out we had funding to pay the squad's flights and accommodation costs when we were on training camps, but I bankrupted myself.
"I had my parents paying for things and little bits from sponsors, where I could get them, to play in Denmark and Iceland to get to the Olympics.
"Now we are paying for flights and sleeping on airport floors before games to get over to games to compete.
"It has been a huge financial cost from start to finish, let alone after the funding has been cut."
However, Hawkins says the personal and financial sacrifices he has made in order to continue with the side and play at the Olympics have been worth it.
"Don't feel sorry for me - I would do it again," he said.
"It was an absolute privilege and the best experience of my life. It was a fabulous thing to be a part of and the memories will live with me forever.
"You can't put a financial value on those memories and experiences so, without doubt, I'd do it again."