Scotland's hockey squad for Celtic Cup announced
Last updated on .From the section Hockey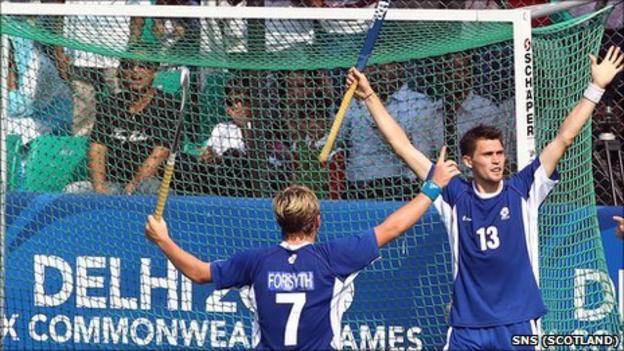 Scotland head coach Russell Garcia has made two changes to his squad for his team's defence of their Celtic Cup title in Cardiff.
Goalkeeper Phil Carr of Loughborough replaces the injured Jamie Cachia, with Ross Stott also sidelined.
These are the only changes from the squad which faced England, Germany and Spain last weekend.
The Scots face Ireland, France and hosts Wales as they seek to retain the trophy they won last season in Nice.
And Garcia sees the tournament as key preparation for the FIH Champions Challenge II in July and the EuroHockey Nations Championship II in Ukraine in August.
"Participating in the Celtic Cup is really a continuation of our preparations for the European competition later this summer," he said.
"Whilst we are there to compete against the other sides, our key focus is still on team preparation and implementation of tactics for the tournaments ahead.
"I've retained the same players and that will obviously help the team to develop a pattern and rhythm to their play.
"The guys also had the experience of playing against three of the world's top five international sides last week, which is vital for continuing to improve our performances at the elite level of the sport.
"Regular exposure to the skills and qualities these teams possess will only serve to improve our players."
Scotland: Phil Carr (Loughborough), Alan Forsyth, Michael Bremner, Michael Christie, Gordon McIntyre, Iain Scholefield, William Marshall, Mark Fulton (all Glynhill Hotel Kelburne), Derek Salmond, Adam McKenzie (Inverleith HC), Wei Adams (AMN Hillhead), Graham Moodie (Edinburgh University), Gavin Byers (Grove Menzieshill), Fergus Dunn (FC Barcelona), Dan Coultas (Durham HC), Russell Anderson (Brooklands), Kenny Bain (HDM), Chris Grassick (Surbiton).