England maintain bid for fifth spot at Champions Trophy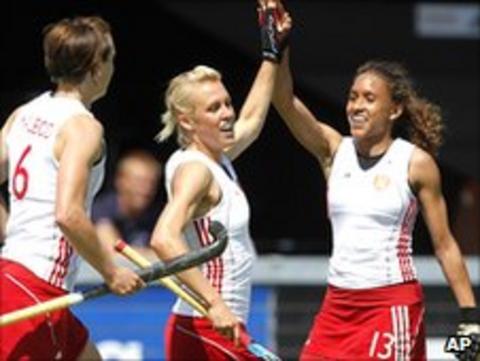 England beat Germany 1-0 to maintain their bid for fifth place in the Champions Trophy in the Netherlands.
The only goal came in the 50th minute when Alex Danson collected Hannah McLeod's pass and slid the ball under Germany goalkeeper Yvonne Frank.
Janine Beermann struck the base of the post for Germany and England goalkeeper Beth Storry made some vital saves.
England's next opponents will be Australia on Friday when a win will guarantee them a fifth-place play-off.
It was England's sixth successive victory against Germany, who now contest a play-off to decide seventh and eighth places on Sunday.
"We weren't great. We didn't play that well, particularly in the first half, although we were better in the second half," admitted head coach Danny Kerry.
Germany were arguably the better side in the opening 20 minutes, and aside from Beermann's strike against the woodwork they also had two penalty corners blocked.
Anna Bennett had a bright moment for England when she dribbled past Frank, only for the well-organised German defence to clear.
After Danson's well-taken goal England pushed forward in search of a second, but Frank made a series of fine saves from three penalty corner attempts in quick succession.
Germany finished strongly and won several penalty corners of their own but Storry held firm to record her second clean sheet of the tournament.