England's hockey stars
By Ollie Williams
BBC Olympic sports reporter
Last updated on .From the section Hockey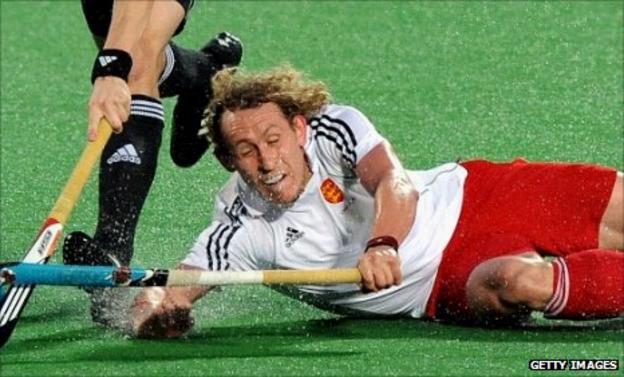 Can you name England's top hockey players?
A recent Youtube video shows a reporter wandering the streets of England, trying - in vain - to find anyone who can name members of the nation's hockey team.
England's men and women take on neighbouring hockey giants like Germany and the Netherlands for European glory over the next 10 days, in the biggest remaining tournament before the London Olympics.
So who are the England stars battling for European gold next week and Olympic gold next year?
With every England game at the European Championships live on the BBC Sport website and via the red button, here are some names to watch.
ENGLAND WOMEN
TEAM CHARACTERS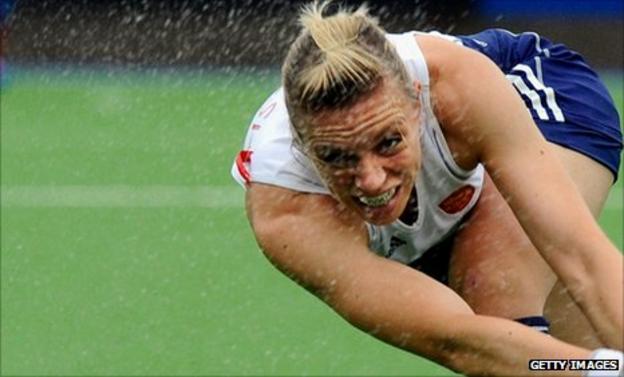 KATE WALSH, 31, is England captain and a veteran of more than a decade's international hockey. She made her debut in 1999 and skippered the side for the first time in 2003.
Walsh marshalls the England defence and goalkeeper Beth Storry says: "I have great faith in her; she's just solid."
Walsh has also developed her penalty corner - hockey's frequently occurring equivalent of a direct free kick in football - so will often be prominent at set-pieces.
"This is my sixth Euros now, which makes me an 'experienced' player," she says. "I've got four or five European bronze medals. I'd love nothing more than getting better than that."
HELEN RICHARDSON occupies the England midfield and forms a potent attacking threat, routinely creating or scoring the decider in close encounters. Her goalscoring ability has only blossomed in the last year or so - not every team has yet worked out how to deal with it.
Chosen as British hockey's player of the year - for both men and women - in 2010, the 29-year-old has come through the ranks alongside Walsh, having made her England debut in the same year.
"Helen is one of my favourite players," says Storry. "She's playing really well at the moment. I love her intensity on the pitch - she wants to be passed the ball, get it down and go."
ALEX DANSON is England's livewire star striker, with 27 goals from 118 England appearances. Only team-mate Crista Cullen has a better goals-per-game record.
"We stay at it, we stick at it in training until it's right," says Danson, 26. "When we get to tournaments, we have that one chance, and it goes in the back of the net."
Hockey was not always the diminutive Danson's career of choice. "As a youngster I really wanted to be a clown. My Christmas present one year was a clown's outfit - I learnt to juggle and, had I not played hockey, I really wanted to be a party entertainer."
She still has the outfit.
ALSO KEEP AN EYE ON:
Crista Cullen, 26. Charismatic defender raised in Kenya who took time off earlier in the summer to compete in an off-roading race for a Kenyan conservation charity.
Georgie Twigg, the youngest member of the squad at 20. The midfielder already has 23 caps, having made her debut at last summer's Champions Trophy in Nottingham.
EUROPEAN CHANCES
Form: England's women had a breakthrough year in 2010, first taking bronze at the Champions Trophy (an invitational tournament for the world's top teams, ranked only behind the Olympics and World Cup) before finishing in third place at the World Cup itself.
Strengths: Storry says: "We've got such a good group mentality. We have a never-say-die approach. And our strength, conditioning and fitness level is just incredible. Even on paper we're far fitter than we were but if you look at the GPS data, we're running so much farther. If you're playing hockey at that intensity, it's got to be good."
Weaknesses: Danson says: "The killer instinct is what we work on every single day. It's playing games where you have to win them. We've had a really good summer already to practise that."
Rivals: Walsh says: "Germany and Holland are always up there in Europe. Ireland have just gone into a centralised programme similar to ours, and Belgium are an improving side. We're all pushing each other on, the women's game has really grown."
Schedule (All times BST): v Belgium, Sat 20 Aug 1700; v Germany, Sun 21 Aug 1500; v Ireland, Tue 21 Aug 1200. Semi-finals Thu 25 Aug, final Sat 27 Aug.
ENGLAND MEN
TEAM CHARACTERS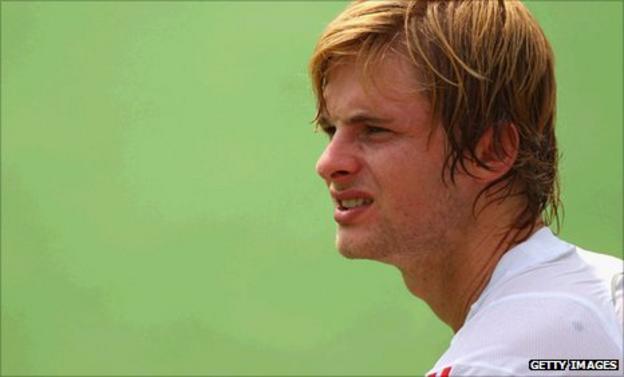 ASHLEY JACKSON is the poster boy of the England team, having scored a remarkable 44 goals in 66 appearances to date.
Jackson, 23, was voted the international young player of the year in 2009, having scored two goals in that year's European final, a shock 5-3 victory over Germany. He received a nomination for the senior award the following year. But this year's Euros will test his resilience after eight months out with a pelvis injury.
"You're never sure how you'll come back from a serious injury, but I feel fitter and stronger than I have for a long time," Jackson recently told the Guardian.
After Jackson made a comeback in two friendlies against Korea, head coach Jason Lee said: "Even given his time out, his class was obvious."
RICHARD ALEXANDER holds down two jobs in the England team: all-rounder and class comedian.
The 29-year-old wears his nickname, "Ratman", as proudly as he wears his overflowing hairstyle. And his background is as lively as his Twitter feed, Alexander having grown up working on pig farms in Norfolk.
"My best friend's dad says that's why I'm so quick over a short distance: I'm one of the best pig-catchers he's ever seen," explains Alexander. "You need to get into a low position to get down and catch the pig, that's probably transferable to hockey too."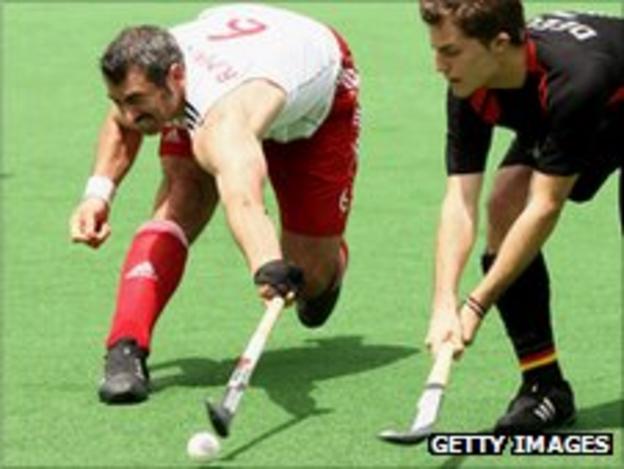 JAMES TINDALL made headlines at the Beijing Olympics for not one but two rash challenges in the least helpful of circumstances, the second described by some reports as a "judo throw".
Three years later, 28-year-old Tindall hopes to reach London 2012 and make his name there as a striker, not a liability. "I need to go onto the pitch honestly believing I'm good enough to be there," he says.
"Fitness is massive for me and the last few minutes of any game are very important. Hopefully it'll come down to the last second and I'll be the one running harder than the opposition defender, touching it in for that podium spot."
ALSO KEEP AN EYE ON:
Richard Mantell, defensive giant and orchestrator of England set-pieces, who suffered a horrific leg injury at last year's World Cup. The 30-year-old adds considerable experience and game-reading skill to the team.
Iain Lewers, defender or midfielder who spent almost three years banned from international competition having chosen to switch his allegiance from Ireland to England. This is his first major tournament since the 27-year-old's "quarantine period" expired.
EUROPEAN CHANCES
Form: England are considered a better side now that when they beat Germany to the last European title, a result considered a shock at the time.
"However unexpected our 2009 European victory was, we aim to win it again and we feel that we have the ability to do just that," says head coach Lee. Recent friendly results have not been hugely encouraging but the team believe they can raise their game for important competitions.
Strengths: Tindall says: "We've really worked hard at our strength and conditioning, and we believe we're the world's best at that. Now it's making sure our skills are up there - which they are. We've just got to bring them out and perform at our highest."
Weaknesses: Alexander says: "When we play weaker sides that sit back, and we have to break them down, we struggle when we should be winning. Then, the next game, we'll go and play the Netherlands or Germany and beat them. We're looking for consistency, and that's what we managed in 2009."
Rivals: Midfielder Glenn Kirkham says: "It'll be the same old story. Germany are one of the teams to beat, and Holland have taken on a much more attacking style under a new coach, so it'll be interesting to see how that works at a major tournament.
"But there are other nations we don't speak so much about - Belgium, in the other group, are always a tough game. France and Ireland are putting together really good results too."
Schedule (All times BST) v Ireland, Sun 21 Aug 0900; v Netherlands, Mon 22 Aug 1800; v France, Wed 24 Aug 1200. Semi-finals Fri 26 Aug, final Sun 28 Aug.