Euro Hockey: Defeat by Netherlands ends Ireland hopes
Last updated on .From the section Hockey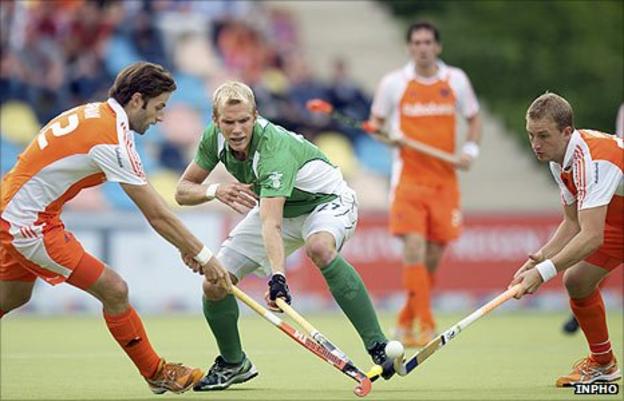 Ireland lost 7-4 to the Netherlands in a match they needed to win convincingly to have any chance of an Olympics place through the Euro Championships.
Bob de Voogd gave the Dutch the lead but Ireland hit back to lead through goals by Eugene Magee and Geoff McCabe.
Taeke Taekema struck twice from penalty corners in three minutes and added a further two after the break for 5-2.
Teun de Nooijer and de Voogd added to the Dutch tally with Michale Watt and Timmy Cockram scoring for the Irish.
Ireland now go into the relegation pool but still stand a good chance of surviving in the top-flight competition.
Paul Revington's side face the Russians on Friday, and on Sunday take on Spain.
Revington said he was happy with how the first half ended and that playing sides like the classy Netherlands would benefit the Irish players.
Ireland have a final chance to qualify for the 2012 Olympics early next year.