England hockey's final frontier - winning the big matches
By Ollie Williams
BBC Sport in Moenchengladbach, Germany
Last updated on .From the section Hockey
How do sports teams win big games?
That's a question England's hockey players will ask themselves. England's men and women both came home from last week's EuroHockey, in Germany, with bronze medals.
Each team reached the semi-finals with impressive group-stage performances but struggled against tougher opposition when the result mattered.
This is not a new problem. England's women have now played in seven consecutive European bronze-medal play-offs, and have in the past year lost semi-finals at the Euros, World Cup, Champions Trophy and Commonwealth Games.
But England - whose teams have both risen to fourth in the world, having languished outside the top 10 before the 2004 Athens Olympics - are trying to tackle their demons.
Psychology plays an increasingly large part in England Hockey's preparation for major tournaments, helped by the man who leads a team of psychologists working with the world-dominating English cricket team.
Is winning hockey's biggest games inside the mind? Or is it dangerous to place too much faith in that branch of science?
BBC Sport asked players, coaches and psychologists to assess the ingredients required for British hockey teams to reach Olympic finals at London 2012.
WIL JAMES
Psychologist Wil James has worked with the England and Wales Cricket Board as its lead psychologist since 2008, and with England Hockey since 2009, among others.
James, who travelled to the German town of Moenchengladbach with the England men's team for the EuroHockey tournament, explains how he works with England's players.
We help the players to develop a winning psychology, but winning is uncontrollable.
What is controllable is performance and knowing the recipe you require to give your best-possible performance, which in turn gives you the best chance of winning.
Traditionally, after each match the coach sits down with the whole team and a video and picks out key moments which might feature three or four players - and others might not get mentioned at all.
Now we have smaller player-led groups. They sum up the game, give it a rating, reflect on what they did well and what they can do better.
The players need to feel they've had a fair and accurate summary of their match and, in readiness for their next match, know what to go and work on. We want them to focus on strengths, not weaknesses, and accentuating the positives as much as possible.
It's not rocket science, it's common-sense stuff, but it often gets lost or overcomplicated in the emotion around winning and losing.
There are some key similarities between hockey and cricket, such as helping players have the courage to move their game on.
In professional sport there can be a real fear of tinkering with your game. If you change it and it doesn't work, you're out of the team and there are lots of knock-on effects.
We help players feel more comfortable about working on their game, creating a mindset where you don't just protect your current talent, or mind making mistakes, because that's how you learn.
The England cricket team's recent results definitely lend me some credibility. The hockey players like to know that it's been done elsewhere, it helps them to trust it. But they're not fools, and they'll let me know if something isn't working. I'm kept on my toes.
BARRY MIDDLETON
England captain Barry Middleton skippered his side to European gold in 2009, one of the two finals - in 39 major tournaments - that England's hockey teams have reached since 2002.
We've had psychologists in the past but sometimes they'd just deliver lectures and not give you any answers. I don't see the point in that.
But Wil James has been great for us. He knows not everyone needs telling all day every day, it's little bits here and there.
He gets us talking to each other. The English in general aren't as blunt as other countries. We learn about each other, which is one of the big things - what makes each other tick, what people like or don't like.
You don't have to wrap people up in cotton wool and help them through everything, but it does help if people get a bit of positive feedback now and again. It can't be a bad thing to do.
SEAN KERLY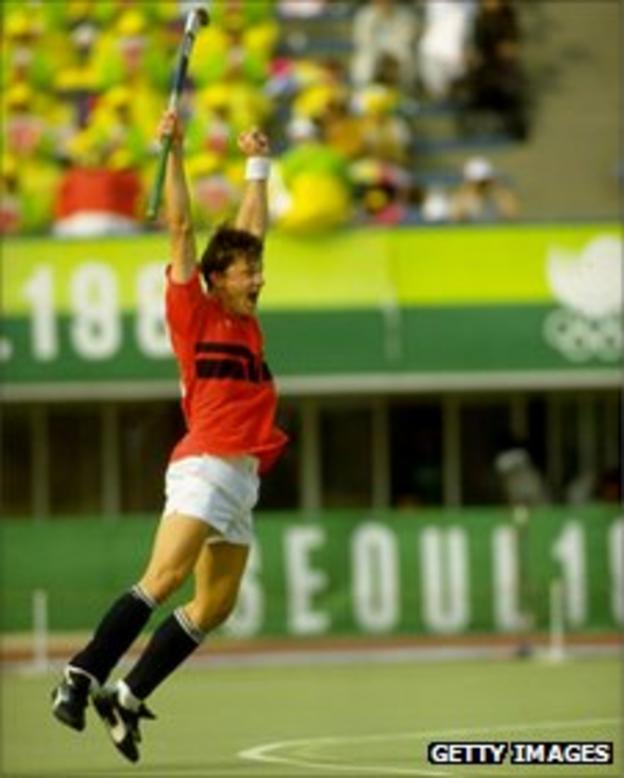 Olympic gold medallist turned BBC summariser Sean Kerly scored a hat-trick to send Britain past Australia in the semi-finals of the 1988 Olympic hockey tournament in Seoul, then scored again in the final as England beat Germany.
As part of BBC Sport's hockey commentary team, Kerly was present for England's semi-finals in Moenchengladbach.
The Germans and Dutch have worked out, better than England, how to play the big games. Germany, particularly, have a big-game mentality and we know that from all their sports. That is missing from both the England teams.
You could argue that if the England teams have been using psychologists all this time, and they're still without that winning mentality, then maybe they should try a new tack.
I realise you have got to use all the tools you can to get that mentality, but it has to come from within the group.
You have to somehow grind results out and that's what England are struggling to do. I couldn't tell you whether they'll be able to do that in time for London 2012.
I hope they will, because nobody more than me wants to see our guys go on and win a gold medal in London - it would be a great occasion for the sport.
DAVID FAULKNER
David Faulkner, who played alongside Sean Kerly in Britain's 1988 Olympic gold medal-winning team, is now the performance director overseeing England and Britain's men's and women's hockey squads.
Back in 2004 our women didn't get to Athens and our men finished ninth. It's been a hell of a journey to drag these two teams from 11th and 12th in the world through to the top four.
I said the easier bit was the first part of the mountain, and that getting to the peak would always be the toughest. We're at that peak now and it's going to be the little percentages that count.
When I played my hockey we never had psychologists around so it's been a learning curve for me. If I were playing I would have questioned it - why would we want that? But that was the way we played then, and things move on.
At London 2012, every match will have a sell-out crowd of 16,000; every minute will be covered on the BBC. I would ask people to put themselves in the shoes of those players, who have never experienced that before.
How do you support individuals in that environment when, for most of their hockey careers, they've played in front of two men and a dog? These guys need that kind of support.