GB 'stronger than ever' in 2012, says coach Jason Lee
By Piers Newbery
BBC Sport
Last updated on .From the section Hockey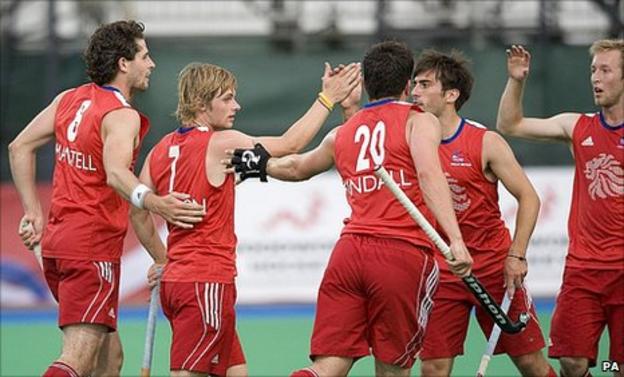 Great Britain will field its strongest ever men's squad at next year's London Olympics, says coach Jason Lee.
Britain, who won gold in 1988, will continue their preparations at the Champions Trophy in New Zealand.
"All the players are very aware of how significant selection will be," said Lee, who names the squad on 7 November.
Britain have Australia, Spain and Pakistan in their group at the tournament for the world's top eight nations, which begins on 3 December.
The Netherlands, Germany, Korea and New Zealand complete the field in what is regarded as the third most important event in hockey after the Olympics and World Cup, and represents the last official world ranking event before London 2012.
And with the Olympics only nine months away, Lee is bullish about the prospects for a side that has worked its way up to fourth in the rankings.
"We have 28 players and the difference between the top 10% and the bottom 10% is very minor," said Lee.
"The home advantage of London means a few players have extended their careers or changed nationality to play for us, so this will probably be the strongest GB squad ever."
He added: "I would describe myself as a pragmatic pessimist but I feel very confident for our chances."
The bulk of the Great Britain squad is made up of the England players who recently took bronze in the European Championships, having won that title two years before and finished fourth in the last World Cup and runners-up at the Champions Trophy in 2010.
Lee did get the chance to look at a British line-up in a four-nation tournament in Nottingham last year, and is comfortable with leaving England behind for now.
"In contrast to football, we've got a history of changing between England and Great Britain, it's more established in our sport," said Lee.
"The Olympics is a GB event and not to look wider than England would be a shame. And I like it because it makes us stronger."
As the host nation, Britain have been assured of qualification since 2005, and so head into the Champions Trophy at a different stage of preparation to some of the other sides.
"I think we'll see some surprising results as some of the teams haven't qualified for the Olympics yet and we're all at different stages," said Lee.
"We're miles off our peak, so I'm guessing it will be the poorest we play all year, although we'll be driving them hard and there will be an exertion of pressure from within.
"But there are no prizes for ranking points and we're overtly focused on next summer."