Ireland women earn win over India in Argentina
Last updated on .From the section Hockey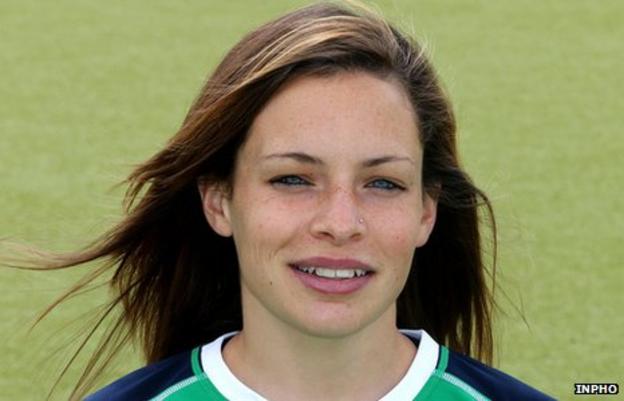 Cliodhna Sargent's goal earned Ireland an impressive 1-0 victory over higher-ranked India in Thursday's match at the Four Nations tournament in Argentina.
The Irish dominated most of the match with Nicci Daly and Sinead McCarthy producing superb displays.
Lizzie Colvin was sent off late in the game after getting her second yellow card but Ireland held on to win.
The Irish, who were defeated 2-0 by South Africa in their opener, face Argentina on Saturday (2030 GMT).
The opening four nations tournament in Argentina continues until 11 December but another competition involving the four countries will then take place from 14-18 December.
Ireland Squad: Niamh Atcheler (UCD), Hannah Bowe (Slough), Aine Connery (Hermes), Lizzie Colvin (Loreto), Miriam Crowley (Hermes), Nicci Daly (Loreto), Nicola Evans (Railway Union), Emma Gray (Hermes), Sinead McCarthy (Hermes), Shirley McCay (Old Alex), Anna O'Flanagan (UCD), Audrey O'Flynn, Cliodhna Sargent (Cork HQ), Niamh Small (Loreto), Alex Speers (Railway Union), Chloe Watkins (UCD)
Unused Players: Pamela Smithwick, Michelle Harvey