London 2012: Top teams for Olympics hockey test event
Last updated on .From the section Hockey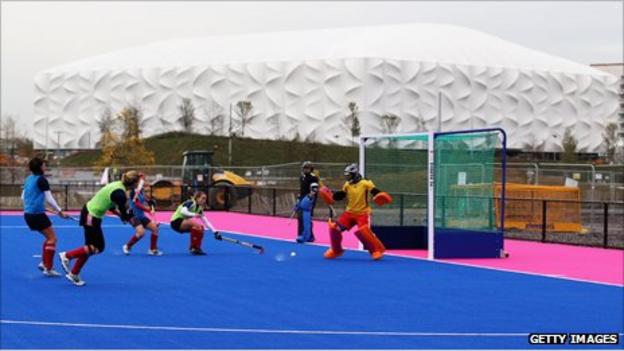 Some of the world's best hockey teams will play in a test event for the London Olympics, organisers have said.
The men's Australian and German teams, ranked number one and two in the world, will be among the teams competing at the Olympic Park's Riverbank Arena.
Both the men's and women's British teams will also take part.
Up to 60,000 spectators will be able to watch the eight sessions of the Visa International Invitational Hockey Tournament from 2-6 May.
London 2012 organisers Locog said the tournament would also feature the current women's World Champions, Argentina, as well as a men's team from India and women's teams from China and Korea.
Locog will be looking to test key operations at the venue including spectator flows, the field of play and video referral, timing, scoring and results systems as well as the workforce.
Athletes and technical officials will also be able to familiarise themselves and test their operations ahead of the Games.
David Luckes, Head of Sport Competition at Locog, said: "The Riverbank Arena is one of the most striking venues in the Olympic Park, with its blue and pink pitches, and it is vital that we run an event which will test our field of play, the venue and our workforce before the Games.
"We are delighted to have been able to secure such a strong line-up of teams... and offer spectators the chance to see world class hockey in the Olympic Park just a few months before the Games."
Six other Olympic test events will be taking place at the same time as Locog tests spectator flows in the Park.
Tickets will be on sale for the hockey tournament in early spring.