London 2012: Alex Danson focused on Olympic target
Last updated on .From the section Hockey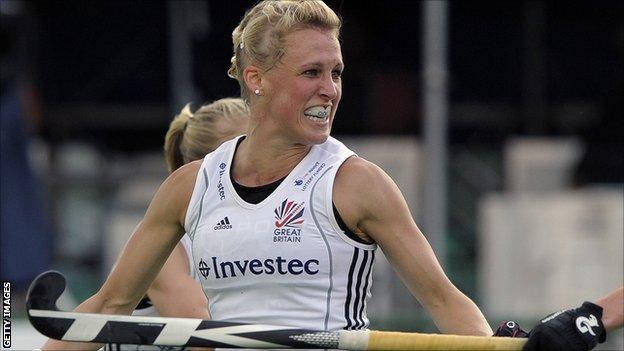 Great Britain's Alex Danson says the team will ignore the expectations placed on them following their performance at the Champions Trophy.
Danson and her GB team mates won silver in Argentina after being beaten 1-0 by the hosts on Sunday.
It has made them serious medal contenders ahead of the 2012 Olympics.
"We will try and avoid all distractions and train hard so when it comes to London we're in the best shape," Danson told BBC Radio Berkshire.
But the Hampshire-born player admitted to having mixed feelings following the defeat, adding: "I've never experienced this strength of feeling.
"I've won so many bronze medals that it feels amazing [to finish second]. But we were so disappointed to win silver because we desperately wanted that gold.
"We've had the most incredible run, and worked incredibly hard and this sends out a message about how big our aspirations are for the rest of the year and how hard we will work when we get home."
Danson said the performance over Germany in the semi-final was the high point of the tournament and that her GB team mates are determined to build on their success.
"The highlight was the semi-final but to be honest the whole tournament in Argentina was just phenomenal," she added.
"For us to play Germany in the semi and win made us so proud. It's been a fantastic learning curve and now onwards and upwards.
"We've been working towards our goal in London for so long now. We live with a real gold mentality that everything we do is the best we possibly can."