London 2012: Team GB can win gold, says Dutch captain Paumen
Last updated on .From the section Hockey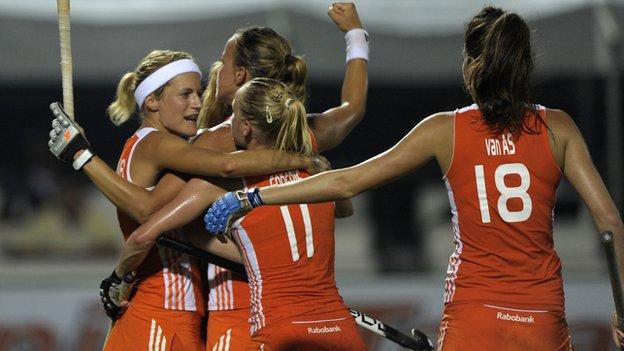 Netherlands captain Maartje Paumen says Great Britain are serious challengers to her side as the Dutch look to win Olympic gold again this summer.
The Dutch are ranked world number one but took bronze at the Champions Trophy while Great Britain managed silver.
Paumen told BBC Sport: "They have improved a lot in the last two or three years and can win gold."
The Dutchwoman, who won the World Player of the Year prize in February, added: "It is always an advantage if you play at home. The crowds will be with you in the stadium.
"But London is not far from home for us, so I am sure there will be lots of orange in the stadium when we play."
Great Britain's women endured a disappointing 2008 Olympics, finishing sixth, but this year they drew 2-2 with the Netherlands in the Champions Trophy group stage on the way to reaching the final.
Paumen said: "We were 2-0 ahead at half-time and they got back into that game, which I was impressed by. They are physically very strong and never give up."
Britain eventually lost 1-0 against Argentina in the final, while the Netherlands won the third-place play-off against Germany having lost their semi-final against Argentina on penalties.
Paumen said: "A lot of the teams that you have seen in the Champions Trophy can challenge for gold at London 2012. I think that all of the teams who played in that competition have a chance.
"There are some favourites - like Argentina, Great Britain and ourselves. Also, Germany and Australia. But the top of the world is getting bigger. It's good for the sport."
Asked if her team are under pressure as defending champions, she said: "Yes we are. Teams will want to beat us. Everyone knows that we are number one in the world."
Paumen handled the pressure when she was 22, in 2008, as Netherlands went on to topple host nation China 2-0 in the final to win gold. It was their first Olympic gold since 1984 - a year before Paumen was born.
"It is difficult for me to put into words how special it was," she said. "It was my first Olympics and everything was a great experience. There were so many memories but, if I had to choose the best one, I would say it was beating Argentina 5-2 in the semi-final because of how we played.
"Then all our focus was on winning gold. For a hockey player, the Olympics are the biggest moment. I was young at the time and, going into the final, the other players just told me to love the game and do my best.
"I was a little nervous and knew that it was bigger than games I had played in before. When we won, the last 10 seconds, I cannot describe the feeling."
Leading Netherlands to London 2012 gold would be a special achievement on her decorated CV.
Captaincy has already been a success for her, having skippered her side to the top of the world rankings plus triumphs in the EuroHockey Nations and Champions Trophy in 2011. She finished top scorer at both events.
Paumen scored a hat-trick in the 2011 Champions Trophy final as the Dutch came back from 3-0 down against Argentina to level at 3-3 and win on penalties.
Looking ahead to this summer's Olympics, Paumen said: "I have been to a lot of places in the world but just once before to London. I have not seen that much of it.
"But I am not going there to visit London. I am going there to win gold."