Ireland 1-1 Korea
Last updated on .From the section Hockey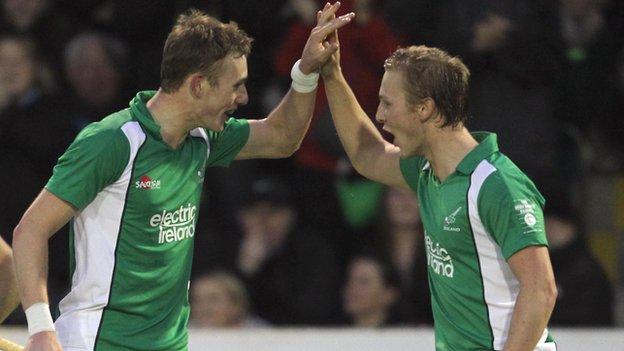 Ireland drew with the team ranked sixth in the world at the Olympic qualifiers in Dublin on Tuesday night.
It was the first real test for the Irish and they grabbed a 28th minute lead at UCD when David Ames netted from a penalty corner move.
Korea pressed early in the second half and Woo Hyun Shin dragged home the equaliser from their third consecutive penalty corner after 41 minutes.
Ireland, who easily won their two opening games, play Chile on Thursday.
The match opened up with some nervy moments from both defences, but as they settled the game was played at a ferocious pace with end to end action.
Ireland broke the deadlock when Timmy Cockram switched the set piece, picking up Ames to deflect in at the post.
Fine goalkeeping from David Harte kept out the Koreans after the equaliser and an exciting game ended in a draw.
The result leaves Ireland second in the pool standings, ahead of Korea on goal difference and two points behind pacesetters Malaysia.