London 2012: Kate Walsh's long journey to top of world hockey
By Ollie Williams
BBC Olympic sports reporter
Last updated on .From the section Hockey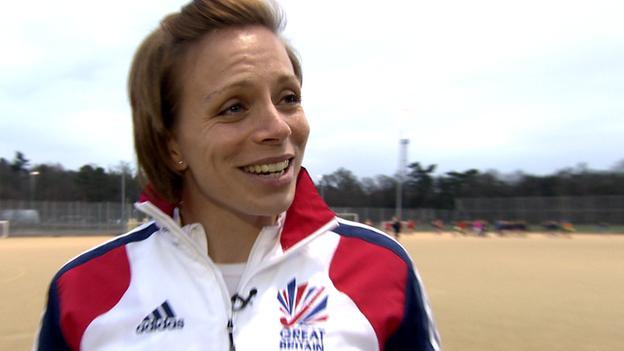 In the latest part of our weekly #olympicthursday series profiling leading British hopes, BBC Olympic sports reporter Ollie Williams speaks to GB hockey captain Kate Walsh.
When the Duchess of Cambridge dabbled in some hockey on London 2012's blue Olympic pitch, the pictures crossed the globe and newspapers plucked out "Kate's jolly hockey sticks" headlines.
Another Kate, next to the Duchess that day, has almost a decade under her belt as captain of the English and British women's hockey teams. Not all of that has been jolly.
"It's in the gym that one of us will crack," says Kate Walsh.
At 31 years old, Walsh has watched skipper after skipper come and go in other sports' national sides since she took the armband in 2003.
She leads what is, by any empirical measure, the strongest and fittest women's hockey team her country has ever produced. Getting there has taken its toll.
"When you lift heavy weights you have to be really focused and think about your whole body. If you've got that little bit of tiredness, any mental instability or feeling low, that can be the time when you just break," she says.
"We've all been there. We know what it's like. I've seen it happen a lot."
Britain's women have not been a feature at the business end of an Olympic Games since winning bronze at Barcelona 1992.
Having finished sixth at Beijing 2008, British hockey began a reconstruction process of the broadest scale. In January of this year, they reached their first major international final.
"A lot of our gains have come in the gym," says Walsh. "I remember when I couldn't do one chin-up. Now we're doing them with 15kg attached to us on belts.
"Even then, we're in the gym thinking 'wow, we're lifting really heavy weights' and then you see the kayakers with 50kg instead."
Walsh was a young captain when she first took on the mantle at the age of 23. Within a year, she had to face her team's failure to qualify for the Athens 2004 Olympics.
"I still get upset about it now," she says, eyes moist as though it were yesterday, not eight years ago.
"Just having that emotion of… failing. Of not qualifying for an Olympics. That had never happened before.
"I was lucky enough to be a young player, to know - if I was lucky - I'd have another opportunity. But for many players, that was their last chance to represent their country.
"When we go out and play now, we play with that in mind. We want to right those wrongs for them.
"Reaching the final at the Champions Trophy this year meant everything to us. We lost to Argentina [the world champions] but we proved to the outside world we are now good enough to compete at that level. It gave us a lot of confidence for the Olympics."
Helen Richardson, 30, is the team's tireless midfield playmaker. She has played with defender Walsh for more than a decade and shared the Athens disappointment.
"From a young age, Kate has known what she wanted from hockey, and gone off and tried to get it. She's somewhere near at the moment," says Richardson.
"Her leadership is invaluable. She's empathetic, she understands people. With Kate at the helm, and the phenomenal amount of training we've done, we are in a really strong place."
Walsh devours biographies of other athletes and frequently references them, searching for clues from other people's lives. Pitfalls to avoid, tiny gains to be made.
When things got tough in the gym, England cricket's Andrew Strauss and Michael Vaughan helped.
"There was a recent interview where Strauss said what he learnt from Vaughan was to wear a mask," she explains.
"I he was having a bad day, you wouldn't know in the changing room. He walked in and put this mask on, and I think that's very important.
"I might be having the worst day of my life but I need to just crack on. It's not good for the other players to see that. They can't be, 'Ooh, what's wrong with Kate?'
"I don't want them to be thinking about that. I want them to be thinking about their job."
Part of this fascination with the lives of others may spring from the fact that British women's hockey is only now on the cusp of achieving the same sporting heights already attained elsewhere.
There is little precedent for Walsh to find in hockey, so she looks elsewhere.
This shows up again when she contemplates the possibility of an Olympic title at London 2012: "I don't know how that would feel.
"Helen and I have that conversation all the time, wondering how it might feel, and in biographies you read that when athletes actually win those medals, there is a 'down' period afterwards.
"They'd built it up to be this amazing thing, when it turns out to be just going to a competition and doing your best, and then it's the end.
"For me, the most important thing will be the legacy. If we can get anywhere near rowing and cycling in this country, two phenomenally successful sports, I will feel very proud that I was part of that.
"When children ask us questions, they think it's some magical way you managed to play for Great Britain. It's not. I started the exact same way as them. I was 11 when I first picked up a hockey stick, and I was in the Olympic Games in 2000.
"It's crazy, that's only nine years. I have to try to pass that on and say to girls that this can be you. It doesn't have to be hockey, it could be anything. Just go out and believe in yourselves."