Irish women beaten 4-1 by Australia in London
Last updated on .From the section Hockey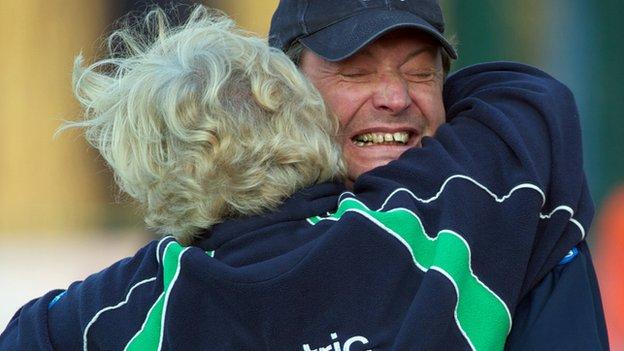 Ireland's women were beaten 4-1 by Australia in their first match at the London Cup tournament on Wednesday.
Early goals from Fiona Boyce and Emily Smith put the world's number seven team 2-0 up inside 10 minutes.
Jodie Schultz extended Australia's lead before half-time as a hammering appeared on the cards for the Irish.
Casey Eastham did hit a fourth Aussie goal after the restart but the Irish kept battling and Nikki Daly pulled a goal back on 58 minutes.
Irish coach Denis Pritchard, in the job after Gene Muller's decision to step down following the Olympic qualifiers in March, praised his team's efforts against the strong Australian team.
"Coming off the back of a break the level of intensity and physicality of the Australians in the first 15th minutes had Ireland on the back foot," said Pritchard.
"As the game went on the Irish girls grew in confidence and showed huge bravery and aggression for the remainder of the match.
"We created six decent goal scoring chances throughout with many individuals standing up to the plate."
Former Irish men's assistant Pritchard will be in charge until the end of the Champions Challenge in early October.
The full-time position will be advertised in July with an appointment made in mid-October.