Champions Trophy hockey: Young England face 'baptism of fire'
By Piers Newbery
BBC Sport
Last updated on .From the section Hockey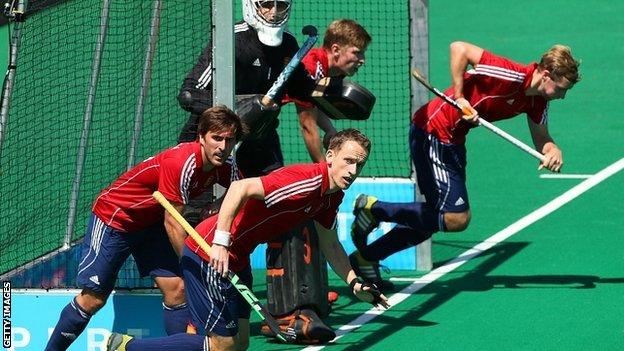 An inexperienced England hockey squad is about to go "in at the deep end" at the Champions Trophy in Australia, according to coach Jason Lee.
England's men will be up against seven of the world's leading nations, including the three medal winners from London 2012 - Germany, Netherlands and Australia, with most of the established names from the Great Britain squad unavailable.
While some take the chance to recover from injuries they carried through the Olympics, and other potential newcomers are ruled out by an imminent under-21 Olympics in January, many are just getting on with life.
"There's a good number that had to go back to work or university to finish exams or pay bills," says Lee, coach to both England and GB. "The profile in our country is still that hockey players are mostly full-time workers.
"At times like this, when the importance of a tournament isn't as significant, especially after an Olympics, we tend to have to let them go. Most of our competitors would consider themselves full-time hockey players.
"That's kind of reflected when you look at the teams and the average number of caps most of our opposition have got, and the new caps we have in contrast."
A strong Australia team, stung by their semi-final defeat against Germany at the Olympics, averages 96 caps, with New Zealand at 100 and England at just 35.
"We're by some distance the least experienced group - and there are some very experienced teams here," says Lee.
"This is kind of a learning experience for us. Five of our players have fewer than 10 caps and six of them have never played internationally at all, so it's certainly a jump in the deep end.
"We've got to try to support them through it because I think they'll find it very different from their normal hockey experience and quite challenging. We're not talking about targets for the tournament outcome, we just want the players to focus on doing their best and learning as much as they can, as quick as they can."
British hockey hit its target of one medal at London 2012, with the women's team taking bronze and the men living up to their world ranking of fourth, continuing a steady rise over the last three Olympics.
Britain's men experienced real highs and lows in London, with a brilliant comeback from 3-0 down to draw 3-3 with pre-tournament favourites Australia in the group stage, followed by a crushing 9-2 loss to the Dutch in the semi-finals.
To some extent, this should not come as a surprise as Great Britain - and England - continue to battle against the odds in international hockey. While leading clubs in the UK might count their members in the hundreds, in the Netherlands or Germany it is thousands.
"It's not just the people who are actually in the senior team," adds Lee. "In Holland, for example, they've got about 250 full-time hockey players.
"We would probably only say we've got about six or seven, so beyond even the next two generations they have people who've got hockey as their profession.
"We tend to start with relatively low performance standards at the start of a four-year cycle and we build it up, and end up being competitive at the end of it. We've never enjoyed the consistency that some of the top nations have."
That cycle begins in earnest once again on Saturday when England take on India in their opening Champions Trophy fixture in Melbourne, with Olympic champions Germany and New Zealand to follow in the group stage.
Plenty of English sporting teams have toiled in the Australian summer, and Lee's squad of 18 have already had a taste of what is to come.
"Even though I think we'll find it very difficult to be competitive this week, my thinking is all about how can we get the players and the team better with Rio and beyond in mind," says Lee.
"We had a practice game against Holland on Wednesday and they were stunned how hard it was. It was 36 degrees on the pitch, which is a very typical temperature for international hockey because we play in the summer and often in very hot parts of the world.
"One of the players commented, 'I seemed to be on the pitch quite a lot, how long was I on for?', and he was only on for 40 of the 70 minutes.
"He just had to work so much harder than he has ever experienced, and it was only a practice game. It's certainly going to be a baptism of fire for some of them."