Champions Trophy: England beaten by Australia in quarters
Last updated on .From the section Hockey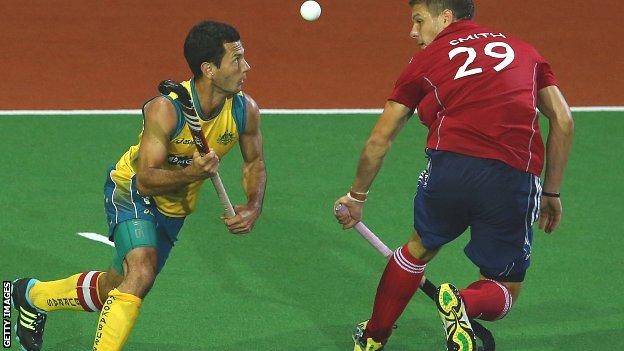 England's men are out of the medal race in the Champions Trophy after losing 2-0 to Australia in the quarter-final.
Australia, aiming to win a fifth straight title, went ahead with Jamie Dwyer's reverse shot after 15 minutes.
They sealed victory - and a semi-final against India - when Christopher Ciriello fired in a textbook penalty corner in the second half.
England take on Belgium on Saturday to determine if they will play for fifth or seventh place.
England lost their opening game 3-1 to India on Saturday, but responded with a 4-1 victory over Olympic champions Germany the following day.
But a 1-1 draw with New Zealand on Tuesday left them in third place in their pool and a clash with the hosts.
They largely matched Australia in the first half and were unlucky to go a goal down after Henry Weir slipped in the circle, allowing Jason Wilson to poach the ball and find Dwyer, whose reverse stick shot bobbled up past a fast-approaching George Pinner.
The second half saw the Kookaburras settle into their stride and with 17 minutes left, Ciriello powered a fast and accurate drag flick home to seal the Aussies' progress.
England head coach Jason Lee said: "I thought we played a very solid game. Our lack of clinical circle play was the key difference between the two sides and Australia took their chances well. Overall I was really pleased with the performance."
Australia now have the chance to go for a sixth straight Champions Trophy medal and an unprecedented fifth consecutive gold at the event.
India, who beat Belgium 1-0 to progress, are looking to add to their one bronze medal in the tournament from 1982.
The Champions Trophy is played annually and features eight of the world's leading hockey nations.