Ireland pair Ames and Sloan make switch to England and GB
Last updated on .From the section Hockey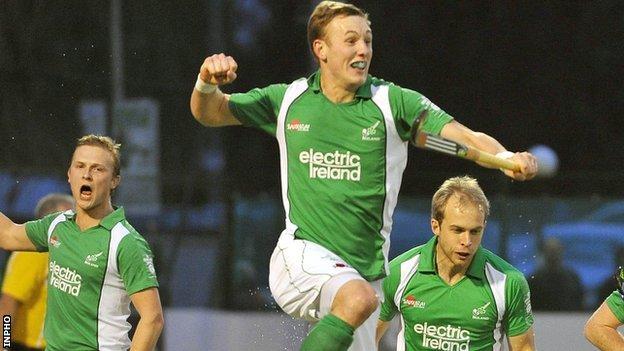 Irish hockey has suffered a major blow after David Ames and Ian Sloan declared to play for England and Great Britain.
The Cookstown pair, who are both based in England, will not be eligible to play for England or GB until 2015.
They follow fellow Ulster players Iain Lewers and Mark Gleghorn in switching allegiance to England and GB.
"I feel making this decision will give me the best chance and opportunity to achieve my goals," said Ames, who has represented Ireland 64 times.
Ames plays for English club Beeston while teenager Sloan, who has won 17 Irish caps, is a student at Loughborough University.
They face a three-year international exclusion before becoming eligible for England and Great Britain in April 2015.
Lewers competed for Great Britain at the Olympic Games in London last summer.
"I have many goals and aspirations for my hockey career that I want to try and achieve," added Ames.
"The Olympics is a high ambition of mine, not just to play in, but to also challenge for medals.
"It is also my ambition to play in more high-level competitions such as the World Cup, Champions Trophy, and the Commonwealth Games, and in order to give myself this chance, now is the best time to declare for England.
"It may seem a very selfish move but unfortunately competing at international level doesn't last too long in a player's life time.
"So to have more of an opportunity to compete at these high level events would give me a sense of accomplishment in what I want to achieve in my short hockey career.
"I do not want to finish my career regretting not giving myself the best opportunity to play hockey at the highest level possible."
The Ireland hockey team - like the rugby union team - comprises players from all four provinces on the island.