England hockey: Investec Challenge squad's eight debutants
Last updated on .From the section Hockey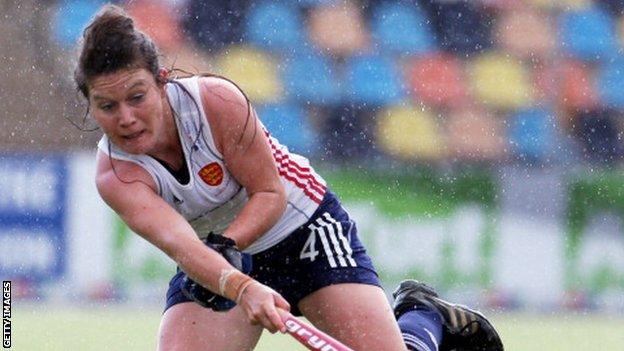 England have named a youthful Investec Challenge squad with eight debutants to senior international hockey.
New England Coach Karen Brown has selected just Laura Unsworth and Nicola White from Great Britain's bronze medal-winning London 2012 squad.
She said: "It's a great opportunity for us to look at new players for the next Olympic cycle."
England face hosts South Africa on 4 February before playing the Netherlands and Australia in the four-team event.
The 18-strong squad for the week-long tournament has places for Giselle Ansley, Sarah Haycroft, Jo Hunter and Joanna Leigh.
All four were in the successful England Under-21 women's squad that won bronze at the Junior EuroHockey Nations Championships last year.
Ansley and Leigh, the youngest members of the squad, also recently won bronze for Great Britain Youth at the Australian Youth Olympics in Sydney.
They are joined by Hollie Webb, Ellie Watton, Steph Elliot and Lauren Turner.
Goalkeeper Kirsty Mackay plus Dilly Newton are also in line for England debuts, although the pair have represented Great Britain.
They were involved in the Great Britain training squad leading up to last summer's Olympics alongside Maddie Hinch and Susannah Townsend, who are also in the England squad.
Twice-capped Sophie Bray makes up the 18.
Full England squad: M Hinch (Goalkeeper, Leicester), J Hunter, (Leicester), N White (Leicester); K Mackay (Goalkeeper, Bowdon); G Ansley, (Loughborough Students); L Unsworth (Loughborough Students); S Bray (MOP); S Elliott (University of Durham); S Gilbert, S Quek (Reading), S Haycroft (Surbiton); B Herbert (Pinoke); J Leigh (Clifton); D Newton,( Canterbury), S Townsend (Canterbury); L Turner (HDM); E Watton,(Beeston) H Webb (Beeston).