Australia beat gutsy England at Investec Challenge
Last updated on .From the section Hockey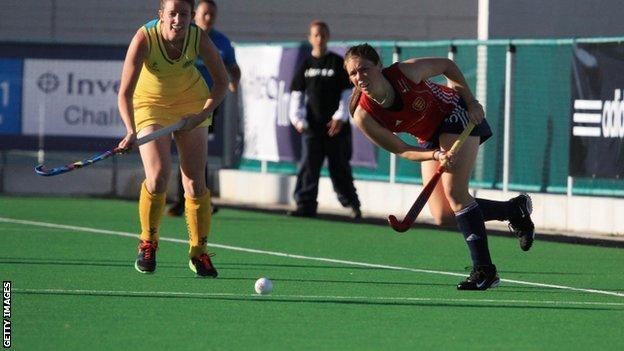 England suffered their third successive defeat at the Investec Challenge as a classy Australia side claimed a 3-1 win in their final group game in Cape Town.
The Hockeyroos opened the scoring through Anna Flanagan's penalty stroke before Jodie Schulz and Georgia Nanscawen's second-half strikes.
London 2012 veteran Nicola White turned in a Laura Unsworth cross to pull back a consolation, but England will finish bottom of their four-team group.
The semi-finals begin on Saturday.
England will have to await the outcome of the match between the Netherlands and South Africa to find out who they will play there.
"I have been really pleased with the effort the girls have shown out here and I think, given the relative inexperience, we have done well to compete for significant periods today," said England team leader Karen Brown.
"That said however, we do not have a full 70 minutes of consistency yet and that is vital if we are to compete against a side like Australia."