Hockey chief shocked by narrow escape from Olympic cull
Last updated on .From the section Hockey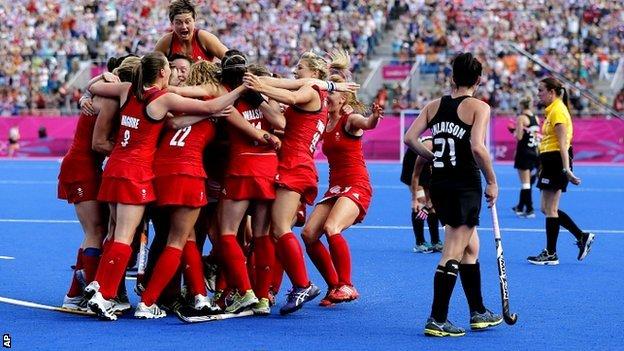 Hockey would have been "crushed" had the International Olympic Committee cut the sport from the Games, said England Hockey chief executive Sally Munday.
"All our players dream of playing in the Olympics," said Munday.
"It's the pinnacle of our game and if we were no longer an Olympic sport it would be crushing for our players."
Before making its decision, the IOC's programme commission assessed each sport by looking at such factors as TV ratings, ticket sales, anti-doping and global popularity.
Hockey was one of five sports under threat at the meeting in Lausanne, Switzerland, on Tuesday, and was still involved after canoeing and taekwondo survived the early rounds of voting.
It was only in the penultimate round of three sports, alongside wrestling and modern pentathlon, that hockey was assured of its place in 2020.
"I was really surprised to hear that news," Munday told BBC Radio Berkshire.
"Hockey is one of the core sports of the Olympic Games and has been for a very long time, and following the huge success of hockey at last summer's Olympics in London it was a bit of a shock to hear that hockey was in the bottom five.
"We only found out on Tuesday when the announcement was made and, as far as I know, the international federation also only found out [on Tuesday].
"As far as hockey is concerned, the success at London was massive and it was the third biggest sport in terms of ticket numbers. Over 630,000 were sold for the Games."
She added: "For some people the perception is still of St Trinian-esque girls running around with pig tails and rubber boots, and that is a million miles away from what it is now.
"It is a dynamic sport and not being considered as one of the core sports is a surprise. It does not bear thinking of (hockey not being an Olympic sport).
"Being an Olympic sport is like a little bit of fairy dust."
GB's women won bronze at the 2012 Games and one of the players, Emily Maguire, was less then impressed with the news.
"Is this some kind of sick joke!! Hockey nearly kicked out of Olympics!! Can't think of any way this can be justified," she wrote on Twitter.