Leicester Ladies: Inverdale relishes Euro Indoor Hockey test
Last updated on .From the section Hockey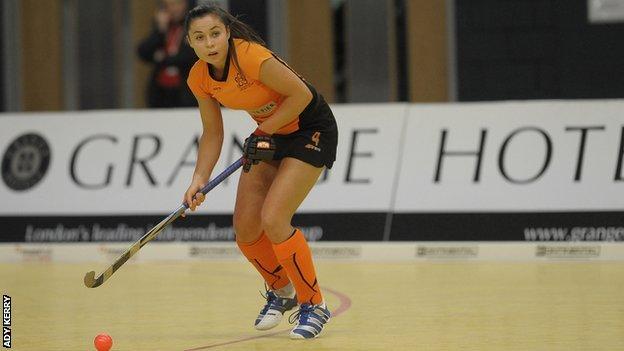 Josie Inverdale says the European Indoor Hockey Cup provides the ideal chance for Leicester Ladies to test their quality against the very best.
The defender told BBC Radio Leicester: "The indoor game is massive in Europe.
"But we have a great team with great international experience, so bring it on. We are really looking forward to that challenge."
Leicester, who won last season's National Indoor Competition at Wembley to qualify for the event, begin their campaign with a game against Spanish side Club De Campo on Friday at 10:40 GMT.
They face another game on Friday afternoon against Gintra Strekte Uni of Lithuania and complete their group fixtures against German side Rot-Weiss Koln.
England Under-21 international Inverdale is in no doubt about the task they face and said the Germans are likely to be the toughest of the three sides they are scheduled to play.
But she is convinced they have the quality to challenge for the trophy
"It's hockey's equivalent of the Champions League so we are looking forward to taking on the best in Europe," she said.
"For us, with outdoors being the main priority, it will be really interesting to take on these teams and see where they are at and see where our level is.
"Every single one of the players in our team has represented Great Britain or England at some level. We have a great pedigree and a lot of experience.
"Whether we are outdoor players or indoor players we have a lot of talent so hopefully it will all gel together.
"We can win it, if we bring our 'A' game."
Preparations have not been ideal with many many of the Orange Army's stars fulfilling various international commitments before meeting up just before they flew to Austria.
"The build up has been a bit disjointed," Inverdale admitted. "But we will go over a lot of stuff when we meet up and we will have the information we need. We just need to take that on to the pitch."
Leicester's Vanessa Hawkins told the England Hockey website: "The team is feeling confident of putting on a good show, if not a little apprehensive. We're very excited to playing in this prestigious tournament. We had a positive indoor season."
Good results in their opening fixtures would give them the opportunity to progress to the top four pool, Pool C. Teams in Pool D, which will feature the sides finishing third and fourth in their opening pools, will play off to avoid the drop.
Indoor coach Andy Fairbrother told BBC Radio Leicester it is imperative they finish in the top two in the group stages and progress to the top-four pool, Pool C.
Teams in Pool D, which will feature the sides finishing third and fourth in the opening groups, will play off to avoid relegation to the second tier of women's indoor hockey.
Fairbrother added: "The first aim to try to retain a place in the league because wherever we finish dictates the seeding for the English qualifying team next year.
"Our ambition first of all is to maintain England as a top-flight indoor team then after that is trying to finish in the top half. And if we can come away with a medal that would be absolutely fantastic."
You can follow Leicester Ladies in the European Indoor Hockey Cup in Vienna with BBC Radio Leicester's Ian Stringer on Twitter.