Ireland move step closer to World Cup after beating China
Last updated on .From the section Hockey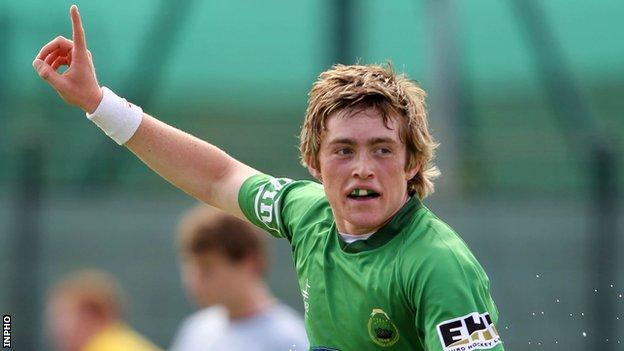 Ireland moved a step closer to World Cup 2014 qualification after Sunday's 4-0 victory over China in New Delhi.
Shane O'Donoghue bagged a hat-trick while Peter Brown also scored as Ireland made it four wins from five World League 2 games.
A second-placed finish means the Irish should progress to round three of the World League, with 12 of the 16 teams qualifying for the World Cup.
"It was a pressure game and we had to win," said Irish coach Andrew Meredith.
Ireland were in control for most of the game, making the early running before Brown got on the end of a smart Stuart Loughrey cross at the back post to get the men in green up and running.
Ireland held possession for long periods and took the sting out of the game on the half-time hooter when O'Donoghue netted his first goal.
He was on primary flicking duties in the absence of Conor Harte, one of the official nominees for player of the tournament, who missed out on the game through injury.
But his presence was scarcely missed as O'Donoghue's second came in similar fashion, hitting the backboard four minutes after the turnaround.
The victory was completed from the same source in the 50th minute, as Donoghue scored with a third low drag-flick finish.
"Just one goal separated us from the side that finished first - who knows what might have happened if we were more effective from our corners," added Meredith.
"It's remarkable in the context that we probably only had six days preparations for this competition against teams that are training full-time together.
"It's a huge disadvantage as is coming from the European winter. To produce what we did and to finish like that is something I am really proud of from the guys."
Ireland started the New Delhi tournament with a 5-2 win over Bangladesh before hammering Fiji 13-0.
Hosts India edged out the Irish 3-2 but Meredith's men responded with a 7-2 rout of Oman on Saturday.
Ireland: D Harte, J Jackson, G McCabe, R Gormley, M Watt, E Magee, M Darling, P Maguire, P Gleghorne, S Loughrey, S O'Donoghue.