Leicester Ladies: Andy Fairbrother upbeat despite Euro relegation
Last updated on .From the section Hockey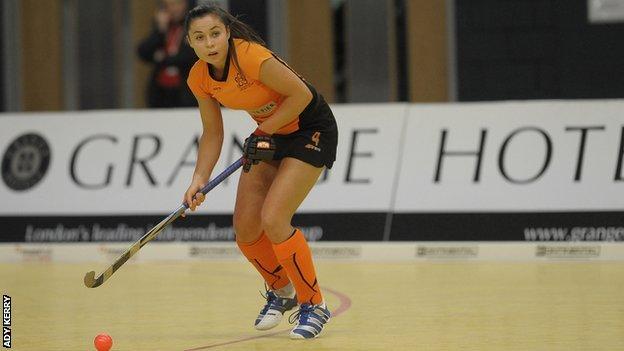 Leicester Ladies indoor head coach Andy Fairbrother says his side learned a harsh lesson about their shortcomings in the European Indoor Hockey Cup.
The Orange Army lost all five of their games representing England in Vienna, Austria last weekend.
As a result, this season's domestic indoor champions Reading will play in the lower tier in next year's event.
Fairbrother told BBC Radio Leicester: "We have been outclassed in one or two key areas."
Leicester, who qualified to take part by winning last year's National Indoor title at Wembley, lost 1-0 to Club de Campo of Spain and 3-1 to Gintra Strekte Uni of Lithuania last Friday.
They were then beaten 2-0 by German side Rot-Weiss Koln and 2-1 by SV Arminen the following day, and on Sunday lost 2-0 against Ritm-Azot Grodno.
However, Fairbrother insisted that there were positives to take out of the trip.
"If you look at our defensive performance, we have limited our opposition to a limited goal count, but we have not had the penetration we needed in the circle," he said.
"The reality is that, at this level, that makes a big difference.
"We have had the opportunities to win every game we have played. It is a case of whether you take the opportunities you create.
"We go forward to the outdoor programme and the positive we take into that is that we now know what now as a group of players what those fine lines and differences are between becoming a champion and holding this kind of division and quality, and relegation.
"In the harshest possible light, it exposes the difference between where we are and, if we aspire to be the best in Europe, where we need to be."
"Sometimes those fine lines are just half a metre in this games and the opposition we played against have that half a metre, and we don't."
He added: "Part of the pride in coming to the tournament is representing your country. We wanted to do the best we could for our nation.
"We need to get more gameplay time - not just necessarily in competitions - gameplay against local teams and time together so that in the tight areas we can execute better."