Guernsey win 5-3 to secure place in HA final
Last updated on .From the section Hockey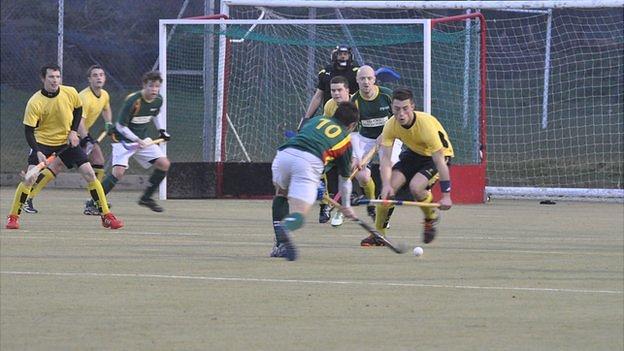 Guernsey beat South Cheshire 5-3 to secure a place in the Hockey Association Trophy final.
The island side dominated from the off with Rick Dijxhoorn and Drew Clark putting them two ahead before any response from the visitors.
Two later goals from player/coach Andy Whalley and one from captain Matt Watson sealed Guernsey's victory.
The island side are hoping to reclaim the trophy they won in 2009 after .
"Always going to be a tough game, any side that gets to the semi final is clearly going to be pretty good and that proved to be," said Watson.
"They play a different style to the hockey we've come up against so far in the competition, we found it a little bit difficult to adjust to that and they made it difficult for us especially in the second half.
Opposite number Graeme Wolfenden said Guernsey were probably the best team South Cheshire had played this season, but he felt "hard done by" because no cards were shown in the opening half.
In the second half both sides lost players for five minutes with yellow cards shown to Wolfenden and Guernsey's Andy Alford.
Wolfenden added: "It took the umpire 65 minutes before he actually gave a yellow card - there should have been a lot more a lot earlier on.
"It could have changed the game, but on the day they were by far the better team and good luck to them in the final."
Guernsey will play either Lewes or Banbury in the final at Wakefield Hockey Club on 4 May.