Guernsey beat Oxted on penalty flicks to win EH Vase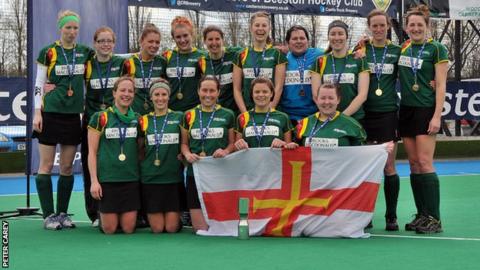 Goalkeeper Emma Atkinson was the Guernsey heroine as she saved all three of Oxted's penalty flicks as the island side won the EH Vase in a shoot-out.
The Sarnians drew 1-1 after extra-time before winning the shoot-out 3-0.
"To win is amazing," coach Dave Wray told BBC Guernsey. "It's really good for the girls and all the hard work that they've put in.
"We knew if it was penalty flicks we had Emma in goal and she's probably the world's best at saving them."
Guernsey were and
This time, the island side went behind when Amelia Lewis scored for Oxted after 24 minutes, but Michaela De Vial equalised in the second half.
Dannie Jones then scored the clinching penalty following Atkinson's brilliance.
"We knew Emma would save a few of them so as long as one or two of us scored, but she saved the first three and that was it," said Wray.
Atkinson afterwards revealed that her key to saving flicks was to try and put the opposition off.
"I'm quite an aggressive goalkeeper, I like to intimidate them and make a lot of noise," she said.
"I'm quite agile on the goal line and make them think they have to work to put it past me, and it seemed to work today."