Ireland men earn away win over Olympic champions Germany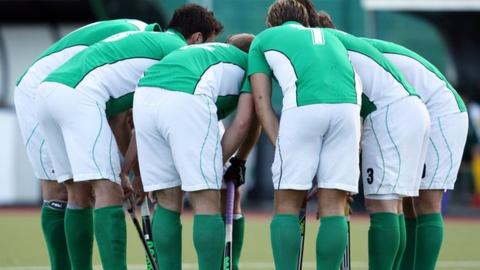 Ireland's men earned one of their finest ever wins as they defeated Olympic champions Germany 3-2 in Heilbronn on Friday evening.
Alan Sothern put Ireland ahead on four minutes with Chris Cargo doubling the lead on 55 minutes.
Germany pulled a goal back on 58 but Shane O'Donohue restored Ireland's two-goal advantage before Fluchs notched the host team's second goal.
The two teams will meet again in Mannheim on Saturday (14:00 BST).
Ireland's win came on the same day they were handed a tough pool draw for next month's World League semi-finals in Rotterdam.
Andrew Meredith's side will face take on the hosts, New Zealand and India in Pool B in the tournament which takes place from 13-23 June.
The Irish will face India on 13 June, New Zealand two days later before the 17 June clash against the hosts.