Scotland's women's hockey team face challenge in Belgium
By Camilla Tait
BBC Sport Scotland
Last updated on .From the section Hockey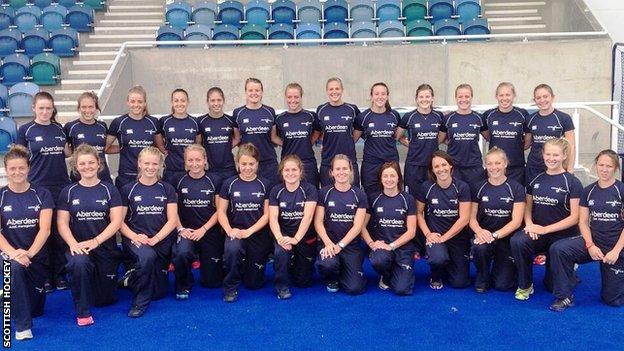 Scotland's senior women's hockey team are preparing to compete in the Euro Nations Hockey Championship later this month.
They were promoted two years ago in Poland after winning Championship II.
And the tournament in Belgium, which runs from 17-24 August, will not be easy.
Head coach Gordon Shepherd told BBC Scotland: "Getting there was difficult, but staying up will be even harder.
"It's very tough group. If we can win one section game and one cross-over game and finish in the top six, it will be a fantastic achievement."
The International Hockey Federation rankings place Scotland's women at 19th, with only Belarus (21st) lower amongst the eight teams competing in Antwerp.
In Scotland's difficult group will be England, Germany and Spain, who are ranked 4th, 5th and 14th, respectively.
But there is confidence amongst the team, with manager Susie Elms believing they have the ability to compete.
Much of this is down to the first ever period of full-time training for the Scotland women's side, funded this summer by sportscotland.
The advantages are numerous, but chiefly the ability to recover and push themselves at training and take their fitness to a higher level.
Leading up to the tournament, Scotland were narrowly defeated by Belgium, ranked 13th, but were keen to take positives.
"Our fitness was good and we came well towards the end of the games, which is what we are going to rely on a lot when we're out there," explained Elms.
"It brought a good lift in confidence."
The first match Scotland face is against Germany on 17 August, which captain Linda Clement admits will be a real challenge.
"We've given them good games in the past, but we've never managed to beat them," she said.
"We plan to target Spain for points. Our goal is to make sure we stay in the top flight of European hockey."
It is confidence that will prove crucial, and Shepherd believes he has a very strong squad. One of them is Great Britain player and Olympic bronze medallist Emily Maguire.
"I think the goal of a top six finish is achievable, it's all about going out, putting our stamp on the game and giving our all," said Maguire.
"To reach the top six would be a massive confidence boost for us. To stay up would be a real springboard for us leading to the Commonwealth Games."
The 18-strong squad will be heading to Belgium on Wednesday, and face matches on consecutive days against Germany and Spain, both kicking off at midday.
While Scotland women hope to stay up in the Championship, world number one ranked team the Netherlands are looking to retain their title, with tournament concluding with the final on 24 August.