EuroHockey 2013: Ireland well beaten by Netherlands
Last updated on .From the section Hockey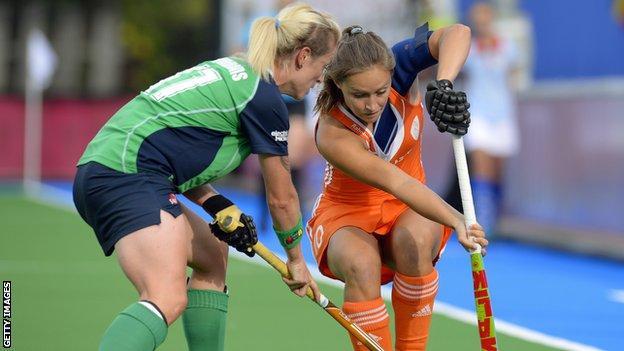 A flurry of late goals saw Ireland fall to a 6-0 defeat by the Netherlands in their opening match of the European Championships on Saturday.
It was a tough task against the top-ranked team in the world and the Irish kept the score close for 50 minutes.
The Dutch took the lead in the 27th minute when Maartje Paumen roofed her side's sixth penalty corner effort.
Paumen, Ellen Hoog (2), Kitty Van Male and Van Den Heuvel scored for the Dutch as Ireland faded in the latter stages.
"There was a lot to like about the first half because I thought we were competitive and defended quite well," said Ireland coach Darren Smith.
"We got a little bit tired which was partly due to the defensive work we were doing."
Ireland play Belarus in their next Pool A match on Sunday (15:00 BST).