EuroHockey 2013: Ireland face must-win Scotland tie
By Ollie Williams
BBC Olympic sports reporter in Boom, Belgium
Last updated on .From the section Hockey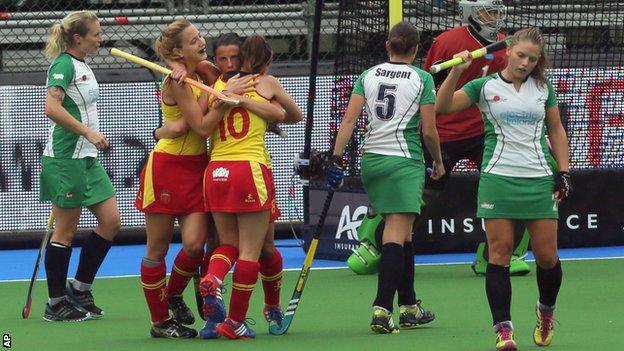 Ireland's women must beat Scotland to remain in European hockey's top flight after losing 1-0 to Spain on Thursday.
Scotland beat Belarus 3-2 in the EuroHockey relegation pool in Belgium.
Ireland and Scotland meet on Saturday - a draw or better would keep the Scots in the top tier by virtue of having scored more goals in the relegation pool.
"It's always a battle against Ireland. Both sides know each other well," said Scotland captain Linda Clement.
Scotland narrowly lost all three group games earlier in the week - 1-0 to Germany and 2-1 to both Spain and England - and had been favourites to beat Belarus, who scored just three and conceded 15 in their group.
The Scots narrowly lost all three group games earlier in the week and had been favourites to beat Belarus.
Holly Cram slid home an opener at the near post following a penalty corner before Belarus were twice punished for careless defending.
Pressure from Alison Howie forced an own goal, then Vikki Bunce struck past the stranded Belarusian goalkeeper as Scottish shots rained in.
But the second half was a different proposition. First Khryshtina Kibkova's penalty corner beat Scotland's Amy Gibson low to her right, then Krestina Kulinkovich converted a penalty stroke.
"We put pressure on ourselves but showed a lot of character to come through that," said Clement.
Ireland's undoing has been an inability to find the net, leaving them level on goal difference with Scotland but having scored fewer goals.
They have scored in only one of four fixtures so far at this tournament and were shut out once again by Spain, whose lone goal came through Berta Bonastre.
"It always helps when the ball goes in the goal but at least we're creating more chances. We'll be working hard against Scotland to do that," said Ireland's Gillian Pinder.
"At the start of the tournament we thought we'd fight for a place in the top four but we came into the tournament ranked sixth [among competing teams]. It's not too much of a shock.
"This is definitely where we want to stay in the future and we're going to do everything possible to make that happen against Scotland."
Scotland were promoted to this eight-team tournament after winning the second-tier event in 2011. The team has had the benefit of additional training time and resources in the run-up to a home Commonwealth Games in Glasgow next year.
Clement said: "If we play against good teams, we get better. Going towards Glasgow next year, we want to be playing top opposition in order to prepare ourselves the best that we can do."
Goalscorer Cram added: "It's massive for us. It's not just the fact we're playing in an A division.
"In terms of development for the Commonwealth Games, it's big but also for our future, it's time to build on that. We deserve it and it's all to play for on Saturday."