EuroHockey 2013: Scotland beat Ireland to top-flight spot
By Ollie Williams
BBC Olympic sports reporter in Boom, Belgium
Last updated on .From the section Hockey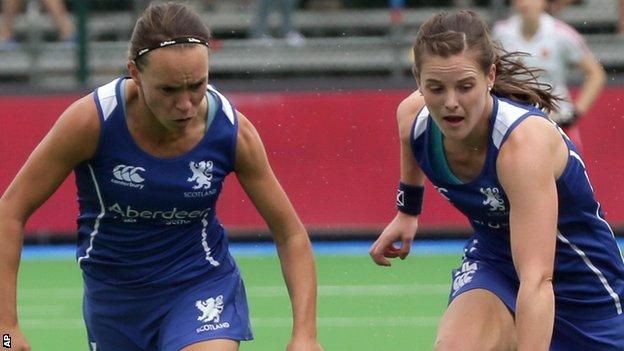 Scotland's women preserved their place in European hockey's top flight with a 3-1 victory over Ireland in Belgium.
But Ireland, who needed a win to stay up, are relegated to the second tier.
Ireland dominated the first half and led through Anna O'Flanagan, but Catriona Ralph and Nikki Kidd put Scotland ahead in a five-minute burst.
Holly Cram deflected a penalty corner for Scotland's third and ensured the Scots will remain at this level for the next European Championships in 2015.
The result is also important for Scottish ambitions at the Glasgow Commonwealth Games in 2014, for which additional training time and resources have been given to the squad.
"That feels brilliant. We've worked really hard this summer, it's nothing short of what we deserve," said Scotland goalscorer Cram.
"This is important for next year, definitely. We can play better opposition in the build-up to the Commonwealth Games and we're looking to medal there. We have a lot of margin to improve.
"I'm from Glasgow and I'm really proud of what they've achieved so far, the facilities are fantastic. I'm just so excited, I can't wait."
Scotland had been frustrated to find themselves in the EuroHockey relegation pool, having only narrowly lost all three group games.
But, needing to win both relegation pool fixtures to stay up, they hung on to beat Belarus 3-2 and then gradually took control on Saturday following initial Irish dominance.
Ireland looked on course for safety when O'Flanagan tapped into an unguarded net early in the first half. However, the course of the game soon changed.
Ralph scored a penalty stroke after a strong Scottish penalty corner had drawn a foul on Cram, then Kidd rifled another penalty corner low into the net.
Ireland's challenge further faltered after the break. Ralph missed a second - controversially awarded - penalty stroke, hitting the outside of the post, before Cram's inch-perfect deflected goal sealed Scotland's safety.
"It's very hard to take, that result," said tearful Ireland veteran Nicola Symmons. "We're disappointed in our performance, which makes it even worse.
"We have a very talented group of players but we didn't reach our potential. We have some amazing talent coming through - maybe we just need some more time.
"There's probably going to be a huge impact. I hope our sponsors stay with us and just believe that we can make it."
Scotland captain Linda Clement added: "We've taken a lot of belief from the tournament. We now believe we can compete against the top teams and we've probably proven to a lot of the bigger nations that we're a forced to be reckoned with.
"We can set ourselves a goal of making top four [at Glasgow 2014]. We've never done that before and if we keep improving, that's not out of the question."