Maddie Hinch and Laura Unsworth defend decisions to join Holcombe
Last updated on .From the section Hockey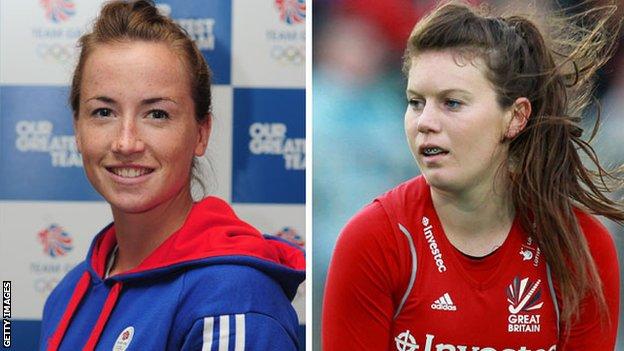 England internationals Maddie Hinch and Laura Unsworth have defended their moves to Conference East side Holcombe.
The club's recruitment policy, which has also seen England men's captain Barry Middleton and Dan Fox join the Medway side, has drawn criticism.
"They have all the right foundations to be a super-club in the long term," Hinch, 25, told BBC Radio Kent.
"They want to go places and that is what attracted me to the club," Unsworth, also 25, added.
Last month Canterbury defender Mel Clewlow said Holcombe's strategy was unsustainable, and that "anybody that flashes a chequebook will turn heads".
Holcombe chairman David South explained the club needed "a boost" to reach England's Premier Division.
The Rochester-based club's women's side are currently top of the Conference East, which is one tier below the Premier Division.
"I got approached by Holcombe and I like what they are doing," goalkeeper Hinch, who has won 21 caps for England, said.
"They are a big club and they just need a little bit of a push to get up there.
"It is difficult to get out of these leagues and they've decided to go and look for players to help them do that. I wanted to be a part of their journey.
"It is just different. We have to win week in, week out and I have a responsibility there."
Unsworth, who helped Great Britain win bronze at the London Olympics, says that a fresh challenge was among her reasons for joining Holcombe.
"Holcombe have set their sights on wanting to do great things in the future," Unsworth told BBC Radio Kent.
"They are in the Conference but they are on their way up. It is an exciting time to be part of the club.
"The Prem is good but you've only got two main teams in Surbiton and Reading.
"It is a challenge for us every week and we need to find ways to break teams down. There are no easy matches."
Holcombe's approach has sparked debate within the game and Clewlow's comments have not gone unnoticed.
"Mel has the right to her own opinion," Hinch said.
"We have had a lot of people say similar things and at the end of the day people can say what they want.
"We are a club just trying to do what every other club is trying to do, which is get to the top. We'll let people say what they want to say and just get on with our own game.
"The club aspires to be in the Prem very soon. The set-up is right at the minute. We are a strong side and we'll give it a go."