EH Trophy: New travel rule pleases Guernsey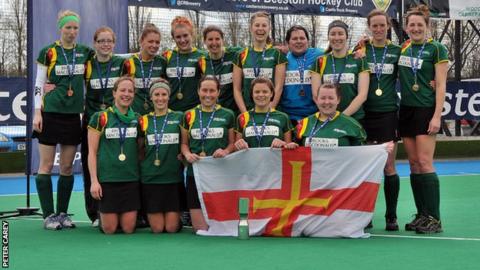 Guernsey hockey captain Emma Atkinson is eagerly looking forward to the EH Trophy after a change to the rules for this year's competition.
In previous years, teams have been allowed to avoid travelling to the Channel Islands, which prevented Guernsey enjoying home advantage.
But new England Hockey rules mean that any team refusing to travel to Guernsey will forfeit the game.
"Home games are fantastic for hockey here," Atkinson told BBC Guernsey.
Guernsey have been drawn at home to West Wiltshire, with the match scheduled for 26 January, after beating Eastcote 2-0 in their opening tie.
"We saw with the men again last weekend that they had 200-plus people there and the visitors always comment on how mad about hockey people are here, when they're used to playing in front of one man and his dog in the UK." said Atkinson.
"Everybody seems to turn out from the Guernsey hockey fraternity and we're looking forward to the game at the end of January."
However, Atkinson warned the standard in the tournament was a step up from the Vase competition her side won last season.
"There was a big difference - I'd even say Eastcote were a higher standard than Oxted and Andover who we faced in the semi-final and final of the Vase last year," she said.
"They were slicker, more organised and more savvy but the girls really stepped up.
"We've been building up for at least two months and it's been a while coming and we're really glad to get this hurdle out of the way.
"We really wanted to get past this game and give ourselves something to aim for in the new year to drive the girls forward."