Ireland men's coach Andrew Meredith steps down from role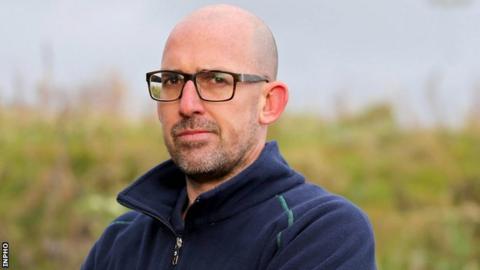 Ireland men's hockey coach Andrew Meredith has stepped down from the role after only 14 months in charge.
Hamburg-based Meredith, who is a high performance sports consultant, is to take up a position with German Bundesliga 2 Football club FC St Pauli.
Australian Meredith was appointed to the role in October 2012 after being assistant coach to the German team which won the Olympic gold in London.
Irish Hockey said the decision had been taken by "mutual consent".
Current assistant coach Mick McKinnon and Under-21 coach Jonny Caren will take interim control of the team.
Speaking on Twitter, Meredith thanked "the fantastic people from the Irish hockey community for their kindness, assistance and magnificent support".
"Sad to close one chapter of life but enthusiastic about the one which will mean the important people in my life come first. Family.
"Would also like to thank the extremely dedicated team of staff members at the IHA (Irish Hockey Association) for all their assistance and support."
During Meredith's brief reign, the Irish Hockey Association was beset by financial problems which threatened their participation in both the Champions Trophy event in Argentina in November 2012 and the second stage of the World League in New Delhi in February.
Following a fundraising effort, Meredith's squad did travel to Argentina where they reached the semi-finals before being edged out 2-1 by the hosts.
Three months later, the Irish progressed from the round of World League 2 qualifiers which earned them a place at the next stage in the Netherlands in June.
However despite a victory over France and a draw against India in the Netherlands, defeats by New Zealand, the hosts and Belgium saw the Irish failing to progress to next month's World League Finals.
Later in the summer, Meredith's side went close to qualifying for the European Championship semi-finals as they drew 2-2 against England after dominating the second half of the contest.
However, later in the tournament Ireland had to fight back to snatch a 3-3 draw against the Czech Republic to avoid dropping to the second tier of European hockey.
During Meredith's time in charge, his squad's strength was also hit by the decisions of David Ames and Ian Sloan to declare for England.