Susan McGilveray faces challenge for hockey Games place

By Keir Murray
BBC Sport Scotland
Last updated on .From the section Hockey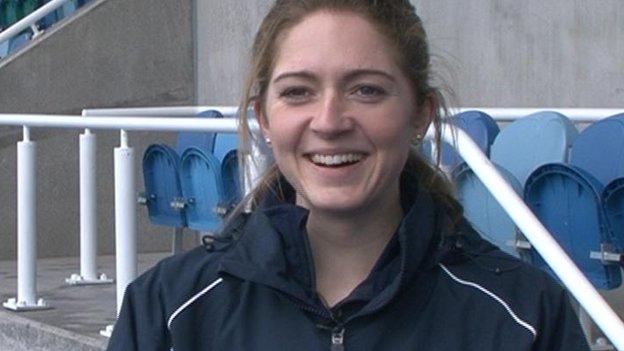 The Scotland women's hockey squad are having a ball. It's on 15 March, in fact.
They are also enjoying playing their sport.
They head to South Africa on Sunday for a 10-day visit where they will play the host nation seven times, five of which are Tests, in Pretoria.
"This is the start-point of our 2014 programme," says defender Susan McGilveray, with a nod to the Commonwealth Games to be staged in Glasgow in the summer.
"Everyone is going, everyone has an opportunity and no matter whether you've got 100 caps or one cap, everyone is in the mix.
"It's a fantastic opportunity for us to train in a warm-weather environment and to play against a top-10 team in the world."
The law graduate is speaking to BBC Scotland at Scottish Hockey's new headquarters at Glasgow Green, on whose two pitches the Games will be contested.
All tickets have been sold for the men's and women's competitions. Temporary stands will be built to increase the capacity to 5,000.
For head coach Gordon Shepherd the transformation is almost too much to comprehend. You can see the excitement in his eyes when he talks about his team running out to a raucous welcome.
But first the 48-year-old Dundonian has to continue his efforts to improve the team and then make the difficult decision about who should make the final squad of 16.
Two dozen players will be on the flight to South Africa, including new caps Jennifer Eadie, Robyn Collins and goalkeeper Siobhan Cowie.
A further five players won't make the journey - Ali Bell, Amy Gibson, Nikki Kidd, Emily Maguire and Morag McLellan are with the Great Britain squad travelling to the United States to face the hosts and New Zealand.
From 29 to 16, Shepherd, then, is looking at a cut of almost 50% in his squad for the Games.
With such small squads for Glasgow 2014, he is looking to the tour to South Africa to see where players might display an ability to cover a range of positions.
Versatility looks like being a valuable attribute to the former Dundee Wanderers forward.
He says of the Pretoria trip: "It's a great opportunity for us to look at the players.
"We are taking a good blend of experience and youth. We will give the players feedback about what they need to work on for the Commonwealth Games."
Those players have recorded some decent results in the past year.
At the EuroHockey Nations Championship in Belgium in August the women suffered single-goal defeats by Germany, Spain and England, but they beat Belarus 3-2 and, crucially, Ireland 3-1 to retain their top-tier position in the last match.
"It turned out to be massive pressure that day," recalls McGilveray, 25.
"We play against Ireland most years but for both teams there had never been anything more riding on that fixture.
"We didn't have the best first half but in the second half we came out and fought for our lives.
"That feeling was unbeatable, to retain our status - it felt like we'd won [the tournament]."
In terms of the indoor game, the Scots took bronze last month at the EuroHockey Indoor Nations Championship in Lithuania.
Shepherd's squad, featuring six players at the beginning of their international careers, beat Russia, Slovakia and Switzerland.
Their only defeats were by the two teams to contest the final, Ukraine and Belgium, and it was those two nations that were promoted to the Championship from the second tier.
McGilveray explains that indoor hockey is faster and more tactical, with only five players in each team.
"Bronze was fantastic with a young team. We did really well and we were unlucky against Belgium," she says, reflecting on a host of missed chances.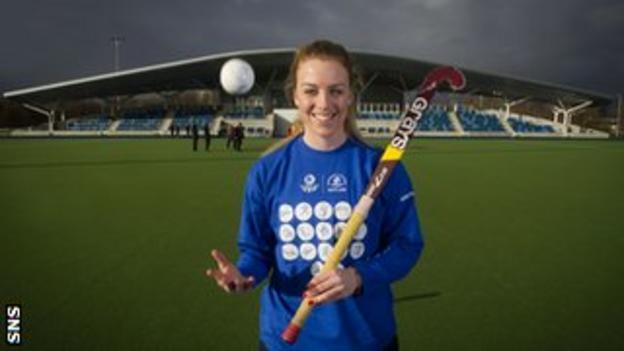 She has chosen to put her long-term career on hold for the Commonwealth Games. She coaches hockey at a Glasgow school and works part-time in a restaurant, roles that allow her to travel with the Scotland team.
So far the Clydesdale Western player has amassed 40 caps since making her debut in 2010. Nine defenders are going to South Africa and five will be in the Games squad.
"It's very competitive and I'll need to make sure I'm at the top of my game to get selected," she says.
Scotland, ranked 16th in the world, will do well to progress from their Commonwealth Games section.
They will have to punch above their weight to reach the semi-finals, finishing in the top two of their pool, which includes the world's third- and fourth-best teams England and Australia, plus Malaysia and Wales.
McGilveray views England as the team's main rival.
"We played against England in the European Championships and lost very narrowly to them," she says.
"On our home pitch, in our home Games, with the extra buzz we'll have about us on that day, the team will be positive about getting a result against them this time round."
On a cold, grey morning, she looks around the compact stadium.
She adds: "It will be fantastic."
The legal career can wait.