Ireland draw with England in Under-21 tournament Mossley clash
Last updated on .From the section Hockey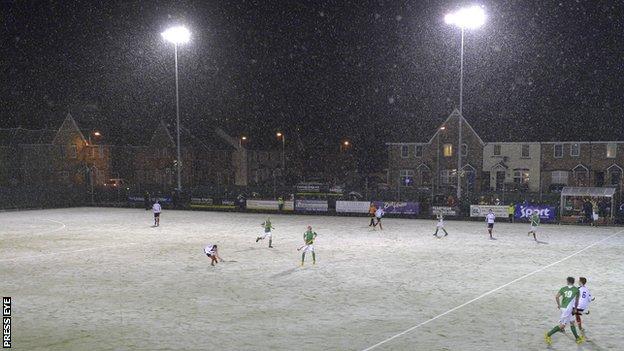 Ireland kept alive their hopes of winning the men's Under-21 four-nations tournament at Mossley as they drew 1-1 against England on Wednesday evening.
With world under-21 champions Germany beating Scotland 4-0 on Wednesday, the Irish lead the table although Germany and England have a game in hand.
Luke Taylor put England ahead on eight minutes with Lee Cole levelling on 25.
Ireland face Germany on Thursday night (19:00) with England taking on Scotland earlier (17:00).
The tournament has had to be extended on to Friday morning when England will face Germany in the re-arranged match from Tuesday night.
Tuesday's scheduled second game had to be postponed following snow.
In Tuesday's tournament opener, Ireland defeated Scotland 5-1.
The weather conditions were again terrible on Wednesday evening but Ireland and England served up an entertaining contest.
After the first-half goals, both teams had chances in the second half and Irish goalkeeper Mark Ingram made a couple of fine saves.
Four Nations Under-21 Tournament fixtures/results
Tuesday 11 February
Ireland 5-1 Scotland
England P-P Germany
Wednesday 12 February
Germany 4-0 Scotland
Ireland 1-1 England
Thursday 13 February
England v Scotland (17:00 GMT)
Ireland v Germany (19:00)
Friday 14 February
Germany v England (08:00)