Glasgow to host two hockey events in Commonwealth Games build-up
Last updated on .From the section Hockey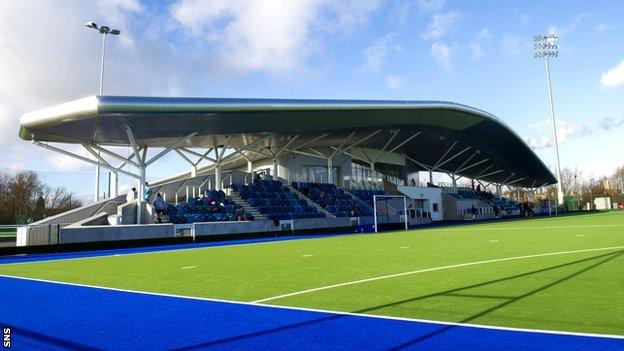 Scottish Hockey will host a Five Nations competition at the Glasgow National Hockey Centre as part of their Commonwealth Games preparations.
The men's event, from 23-29 April, will feature the Scots as well as Argentina, Belgium, England and Pakistan.
It precedes a major women's tournament at the same venue.
Scotland, India, Korea, Belgium, South Africa, Ireland, Spain and USA will compete in the FIH Champions Challenge I event from 27 April to 4 May.
The Glasgow National Hockey Centre will host the Commonwealth Games competition in the summer.
David Sweetman, Scottish Hockey chief executive, said: "The confirmation of the men's Five Nations competition is hugely exciting and another fantastic opportunity to showcase international hockey and the world's top players here in Scotland.
"We look forward to welcoming the participating teams.
"With both the men's Five Nations and FIH Champions Challenge I events being held in Glasgow at the same time, it will truly be a feast of hockey for supporters of the sport to enjoy.
"We will be releasing an exciting ticket offer for our members very shortly and we look forward to seeing a passionate and noisy crowd on each day of the competition.
"We will also be releasing a batch of tickets free to all schools and local community groups."
The competitions will offer the players - under the guidance of Scotland men's head coach Derek Forsyth and his equivalent for the women's team, Gordon Shepherd - the opportunity to test themselves against some of the world's best teams ahead of the Commonwealth Games, with South Africa, India, England and Pakistan strong nations in the sport.
The women's team are currently in South Africa and have lost the first three of their five Tests against the hosts in Pretoria.
The final two Tests take place on Tuesday 18 and Wednesday 19 February.