HA Trophy: Time for Guernsey to win - Andy Whalley
Last updated on .From the section Hockey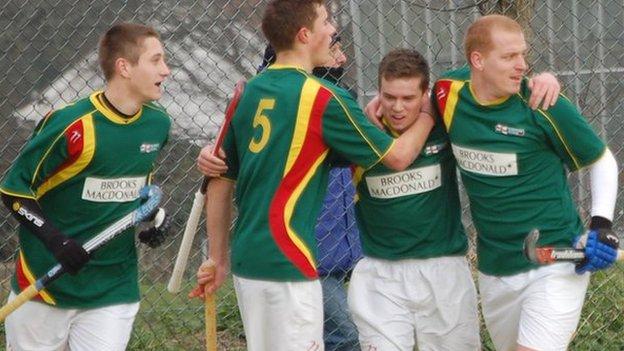 Guernsey player/coach Andy Whalley believes this could be his team's year in the HA Trophy after losing in the final for two seasons in a row.
Whalley's side face Streetly in the quarter-finals on Saturday.
"We've got a number of players are getting a little bit older and you start thinking 'we need to win this now'," he told BBC Guernsey.
"This could be our time. We got through the last game on penalty strokes and that's the kind of luck you need."
Whalley admitted his side would go into the game not knowing much about their opponents.
"We normally end up playing southern teams, but now we're in the quarter-finals you can face anyone," he said.
"They're a Midlands side and we haven't played them before. But they're going to be a good side having got through to this stage.
"We've got to the final the last couple of years so on paper they should be more worried about us but this is why we love to play in this competition because you play against teams you don't face week-in, week-out."
Guernsey's men's side are hoping to follow the example set by the women's team last weekend, with Emma Atkinson's side reaching the semi-finals of their knock-out competition.
"There is a little bit of added pressure," said Whalley.
"The girls have done phenomenally well this year. I watched them play last week and they were fantastic. To get to the semis in the first year of the competition, after winning the Vase last year, is brilliant and shows how well they've stepped up.
"But we want two Guernsey teams in the semi-finals so it's a bit of added pressure but it's also inspiring so we're all out to get there as well."