George Pinner overcomes nerves to lead Beeston to Championship
Last updated on .From the section Hockey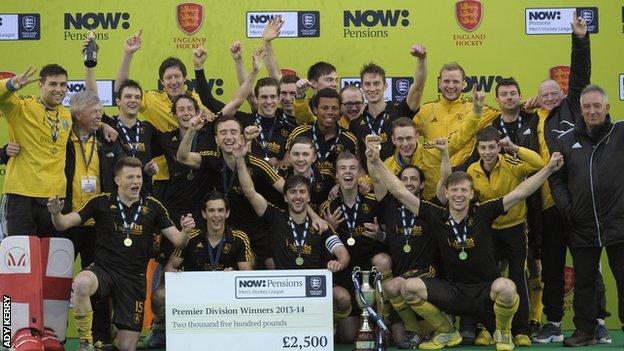 English Championship final hero George Pinner admits he was racked by self-doubt as he prepared to help Beeston defend their title over the weekend.
Keeper Pinner, who returned after seven weeks out with a knee injury, foiled East Grinstead three times in Sunday's shoot-out after the match ended 1-1
It was left to Ben Arnold to coolly make it 3-1 with the winning penalty.
"I was nervous coming into the weekend. It's the little things you're not used to after a spell out," said Pinner.
"I came out here and went easy on myself, and thought 'if mistakes happen they happen'. I just had to give it my best, and luckily it has been a fairly successful weekend for myself and the team."
"I love a shoot-out, the victory feels really sweet."
Beeston finished second to East Grinstead in the league, and booked their place in Sunday's final at Reading with a 4-2 semi-final win over the hosts on Saturday.
Sam Ward put the Bees ahead in the final with a drag flick on five minutes, with East Grinstead hitting back through Andy Piper before the end of the first quarter.
Both Pinner and Richard Potton at the other end made a string of fine saves to force the title into a shoot-out decider.
"East Grinstead finished first, but were were the only team to beat them twice in the league," said Pinner.
"We were determined to make it a third time and prove that we the better team. We have now got our second title in a row and it's a brilliant feeling."
Pinner is one of six Beeston players named in Bobby Crutchley's 22-man England squad to face Ireland in the Nations Cup at Reading on Thursday.
"We had a brilliant winter with England at the World League, getting a bronze medal," said Pinner.
"We've had a block of training the last few weeks, which I've missed, but we are looking forward to getting stuck into the summer, starting with what what is going to be a brilliant event on Thursday night in what sounds like will be a sell-out home crowd."