Ireland to be part of Olympic Games qualifying process
Last updated on .From the section Hockey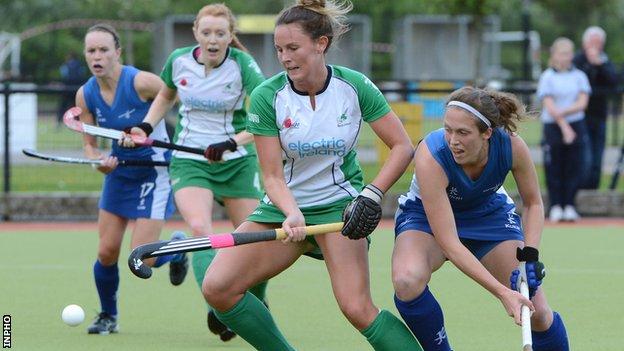 Irish Hockey has achieved a major coup by securing the hosting of the Women's World League 2, which is part of the Rio 2016 Olympic Qualifying process.
Ireland will play host to the eight-team tournament from 14-22 March 2015.
The tournament in Dublin will be played in two pools of four, followed by cross over matches to produce final placings.
The top two teams will qualify from each of the three World League 2 tournaments being hosted in Ireland, India and Uruguay.
One final place will be awarded to the third highest ranked country from across the three tournaments, giving seven places in total for World League Three.
The six highest placed teams from the two World League 3 semi-finals, being hosted in Spain and Belgium, will qualify for the Rio De Janerio 2016 Olympics.
Both of Ireland's national teams have had their eyes firmly focused on the 2016 Rio Olympics after coming painfully close to qualifying for the London 2012 Olympics and home advantage for Ireland's women's team should provide an added incentive.
Ireland women's team suffered a 3-1 defeat by the United States in the Champions Challenge final in Glasgow.
Emma Smyth put Ireland ahead ahead after three minutes in Sunday's decider but Paige Selenski levelled before Caroline Nichols made it 2-1.
Katie O'Donnell added the third as Ireland had to settle for silver.
Meanwhile, Paul Gleghorne and Chris Cargo scored for Ireland in the 4-2 defeat by hosts Malaysia in the men's Champions Challenge bronze medal game.
Ahmad Nasrudden netted from a penalty stroke before Muhammad Baharom made it 2-0 after 11 minutes.
Ireland hit back, first when Gleghorne deflected in from open play and then Cargo levelled early in the second half.
Malaysia struck twice in the final six minutes, through Aslan Misron and Firhan Ashari, to secure victory and the bronze medal while Ireland finished fourth.
"I am happy about the positive way we played, creating enough chances in the 70 minutes to get a result," said Ireland men's coach Ned Fulton.
"I am proud of the team and the improvements they have made against the tough opposition throughout this tournament."
The Irish women's side progressed to the decider despite being ranked seventh in the tournament.
Ireland made the perfect start from an unconventional corner routine - captain Megan Frazer with the raised shot which was batted down and in by striker Smyth.
Selenski slammed home from close range to equalise and the USA took the lead in the 33rd minute with Nichols netting from a set-piece corner.
Ireland squandered chances before O'Donnell made it 3-1 on the second phase of a penalty corner after 48 minutes.