Hockey World Cup: Nick Catlin's law exam dash for England
By Mark Shardlow
BBC Sport in The Hague, Netherlands
Last updated on .From the section Hockey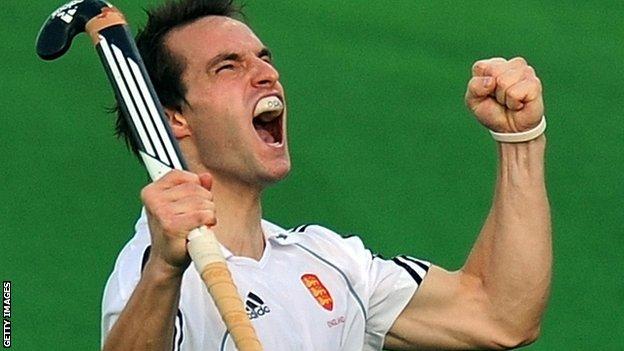 Eight hours before England's key Hockey World Cup game against Australia last Saturday, midfielder Nick Catlin made his way down to the hotel lobby alone.
His team-mates had yet to surface. Outside was a taxi. Catlin got in and took a half-hour journey to Rotterdam - for a law exam.
It is, perhaps, one of the most extraordinary pre-game routines in world-class sport. Catlin is only 25 and a hockey player whose reputation is growing - but is preparing for a life outside of hockey.
"I did my exam from nine until noon, then got back just in time for lunch - and then I was straight on the team bus for the game," he says.
The University of Nottingham history graduate will be hoping Saturday's exam went better than the match that followed it - as England were thrashed 5-0 by Australia.
But two days later, Catlin scored the first goal and created the second in a thrilling 3-2 win over Belgium to secure second spot in Pool A and a place in the semi-finals, where they will face hosts the Netherlands on Friday.
Combining studies with hockey makes a demanding schedule for Catlin.
He says: "It's not ideal, but with hockey not being professional you have to think about what you are going to do when you've stopped playing."
For the Reading midfielder, that plan is to become a solicitor. He has secured a two-year training contract, which will begin after the Rio Olympics in 2016. In the meantime, his law books will continue to accompany him on tour.
"I'm quite used to juggling academic work and sport. I actually find it quite good to think about when you go away. A lot of the lads find it quite boring at times. It takes my mind off the hockey - and the hockey takes my mind off the work."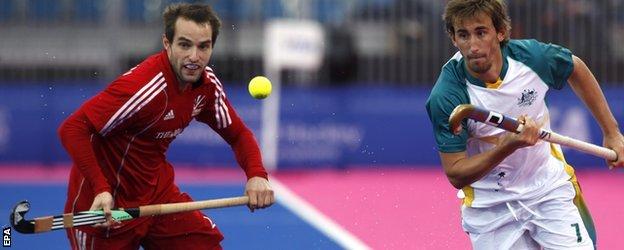 The Hockey World Cup has been a phenomenal success for the organisers. Each day has seen sell-out crowds. But Catlin smiles as he compares his experiences with those of the footballers about to begin their World Cup in Brazil.
"I'd much rather be paid millions of pounds a year to play the sport I love," he says. "But I thoroughly enjoy playing and would like to continue playing at the top level regardless of making any money out of it."
"It felt unbelievable," he said. "We did it the hard way, but we defended brilliantly, broke well on the counter, and I thought we played exceptionally well. It was a team performance - although the last 30 seconds felt like a lifetime."
England will face the Netherlands before 15,000 fans, most of whom will be decked in Dutch orange.
The match evokes memories of an extraordinary semi-final at the 2012 Olympics in London, when Catlin was part of the Great Britain squad humiliated 9-2 by the Netherlands.
Four of Catlin's England team-mates were also part of that squad, but there is no talk of revenge. Instead, Catlin and his colleagues are feeling confident after their win over Belgium as they hope to guide England to only their second World Cup final.
"It's not hard to cope with," he says of that 9-2 defeat. "It's very much out of mind. One result from a past event is irrelevant."