Hockey World Cup: England's women avoid finishing last
Last updated on .From the section Hockey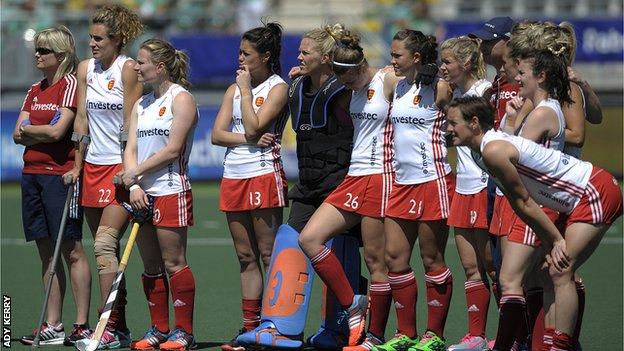 England's women came through a penalty shootout to beat Belgium in the 11th-12th place play-off and avoided finishing last at the Hockey World Cup.
England, ranked third in the world, have endured a disappointing tournament with only one win in five group games.
Sophie Bray's opener looked to be enough to see England to victory before Belgium's Stephanie De Groof equalised with the last touch of the match.
But England proved the stronger side in the shootout, winning it 2-1.
England finished bottom of Group B following defeats by United States, China, South Africa and title holders Argentina.
They won their final match against European champions Germany, but it was not enough to progress to the semi-finals in the Hague.
Speaking about England's poor performance at the tournament, captain Kate Richardson-Walsh told BBC Sport: "It was unexpected and maybe that's why it hurts that little bit more.
"It's a complex issue as to why we haven't performed. Certainly in some games the ball just didn't go over the line for us.
"I believe we can turn this round very quickly. It's a matter of weeks or months. It's nothing massive. It's just a case of tweaking things."
England will now turn their attention to next month's London Cup and the Commonwealth Games.
"Of course there will be changes; changes in the approach and the team and things both in and out of our control," said England head coach Jason Lee.
"This is my worst experience by some distance as a coach, but one of the girls quite eloquently put it this morning: it's the hard times that make you reflect and really learn.
"I get a sense from the girls they are focused and optimistic they can and will do better."
Australia beat the United States 3-1 on penalties in the first women's semi-final and they will face Netherlands in the final after the hosts saw off Argentina 4-0 in the last four.