Commonwealth Games: Clement leads Scotland's hockey challenge

By Keir Murray
BBC Sport Scotland
Last updated on .From the section Hockey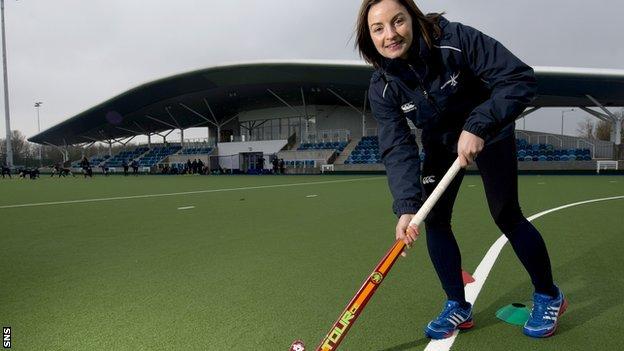 Linda Clement's commitment to the cause cannot be questioned.
She has been playing hockey for Scotland for 15 years, scoring 60 goals in 227 matches.
At 34, she is the eldest member of the national squad.
Such was the Scotland captain's desire to push the team on against Korea in Glasgow, the Edinburgh-based forward shrugged off the loss of a tooth to continue playing.
There was no reward for her bravery that day - the team lost 3-2 - but her competitive spirit is what Commonwealth Games selectors will hope to see throughout the 20-strong women's squad that was named at Stirling Castle on Thursday.
These will be Clement's fourth Games, having worn the Scotland colours in Manchester in 2002, Melbourne in 2006 and in Delhi four years ago when the team finished seventh.
So, have things improved since 2010?
"In the past four years we have made gains in our fitness levels," she told BBC Scotland.
"It's something we pride ourselves on.
"We started training full-time three months before the European Championships last year. That had a positive effect because we managed to stay up in A Division, so that was worthwhile.
"We secured funding as a result of performing well there which means we were able to go full-time four months before Glasgow 2014.
"The profile is a lot higher than before because it's a home Games, but the ability to train full-time is huge for us.
"It not only allows you to train hard but allows time for rest and recovery, which obviously has a positive effect on fitness levels."
As a PE teacher, her appetite for being in the best of shape is understandable, but there are other factors that suggest Scotland might improve on that seventh-place finish in India.
By training full-time, coach Gordon Shepherd has more time to work with the players on tactics and systems of play. And, of course, the players have longer to learn about each other's game.
Then there is the advantage of playing their Commonwealth matches on home turf, albeit artificial, at the purpose-built stadium in Glasgow, and the backing of a noisy Scottish crowd.
"Being able to train at Glasgow Green and being familiar with the turf is going to help us," the Grove Menzieshill player said.
There are two pools of five at the Games. To progress to the semi-finals, teams must finish in the top two. Scotland, ranked 16th in the world, are in the same pool as England (ranked third), Australia (fourth) Malaysia (21st) and Wales (29th).
"We've got to make sure we beat the teams that are ranked lower than us - Malaysia and Wales - and also try to beat the teams that are ahead of us.
"It's a tough ask but it's something we are striving towards."
Clement was grinning widely at Stirling Castle, with no sign of the damage to her mouth from that match against South Korea.
"I took a ball to the face during the Champions Challenge which knocked part of my front tooth out," she recalled.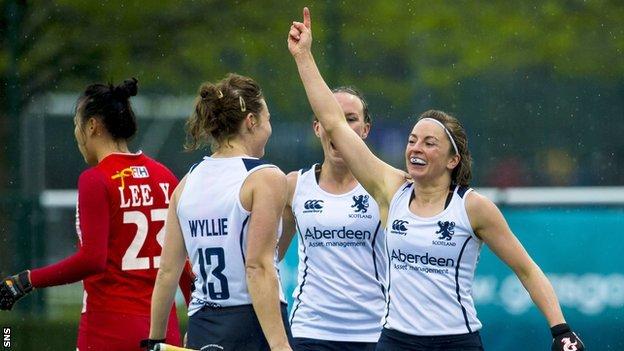 "I came off, put the bit of tooth in a plastic container, put the mouth guard back in and went back on the pitch. There was not much I could do until after the game so I thought I'd carry on.
"The dentists were on hand and it was glued back on."
Scotland finished marginally higher than their ranking at the Champions Challenge - seventh compared to eighth - but it was their ability to compete with the likes of Belgium and South Africa that gave the team a boost.
"The Champions Challenge is a really top-ranked tournament," Clement said.
"Every game we lost, we only lost by a single goal so it shows we are competing with teams that are superior in the rankings."
Shepherd's squad have a busy run-up to the Games. They will play a test series against Ireland and Spain in Glasgow in June before heading to London for the Investec Cup in mid-July, where they will play South Africa, Wales and England.
The squad features Great Britain internationals Vikki Bunce, Morag McLellan, Emily Maguire and Nikki Kidd. Amy Gibson will be in goal behind a defence that includes Catriona Ralph, Susan McGilveray and Leigh Fawcett.
Clement will be joined in attack by Sarah Robertson, at 20 the youngest squad member, plus Ailsa Wyllie, Nikki Lloyd and Ali Bell.
"I think 50% have been involved in a Games before and 50% haven't, so it's a nice blend of youth and experience," said Clement.
If Scotland can emerge from the pool matches at Glasgow 2014 it will represent significant progress.
It seems like Clement is prepared to fight tooth and nail for it.