Hockey World Cup: Argentina beat England in bronze medal match
Last updated on .From the section Hockey
England were beaten 2-0 by Argentina in their World Cup bronze medal match in The Hague.
The score was 0-0 after a cagey first half but Matias Paredes scored twice in a minute after the break to secure his country's first medal in the event.
England, who lost 1-0 to the Netherlands in the semi-finals, have not won a medal in the tournament since finishing runners-up in 1986.
Australia retained the title with a 6-1 thrashing of the hosts in the final.
England captain Barry Middleton said: "When you make a semi-final, fourth is the place you really don't want to come. We've done it a few times now and it's starting to hurt.
"We have to prove in the Commonwealth Games [this summer] that we can deal with the big games. We'd have been happy with third but it wasn't what we came for."
England were only level at half-time because of a fine save by George Pinner, who palmed away a fierce shot by Gonzalo Peillat which was heading into the top corner.
But Argentina made the breakthrough after 56 minutes when Paredes showed good close control to convert a cross from Lucas Villa.
Before England could regroup, Paredes struck again from close range after a surging run from Villa down the right wing.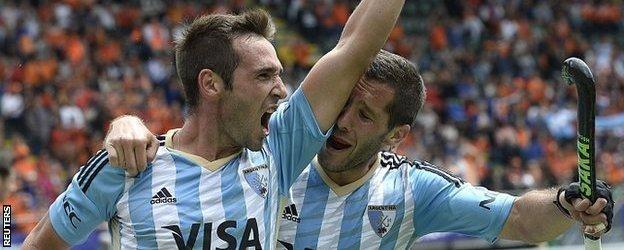 England head coach Bobby Crutchley said: "I am bitterly disappointed. Despite how brave the lads have been, how hard they've worked and how good they've been defensively, we need to have more quality going forward.
"It's the hardest thing to develop and it's the hardest thing to teach. We've got to find players who can un-pick tight defences like Argentina's."
In the final, Chris Ciriello scored a hat-trick as defending champions Australia stormed to their third world title.
Jeroen Hertzberger opened the scoring for the Dutch after 15 minutes only for Ciriello to equalise from the first of his three successful penalty corners six minutes later.
Kieran Govers gave Australia the lead before half-time, after which Ciriello added two more and Glenn Turner and Jamie Dwyer also scored for the champions.