Hockey World Cup: Argentina field 12-men in win over England
Last updated on .From the section Hockey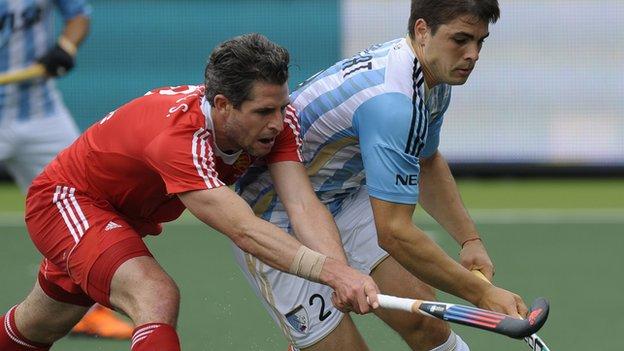 Argentina played with an extra player for more than two minutes during their 2-0 World Cup bronze medal victory over England in The Hague.
The International Hockey Federation (FIH) has now suspended Argentina's captain for their next international.
England, who felt the result was directly affected, made a complaint to the FIH and have accepted its ruling.
Had the offence been spotted, Argentina would have been reduced to 10 men at the time they scored their two goals.
England chairman Philip Kimberley said: "We feel it is important that the facts are in the public domain and to ensure that the management of games is tightened up to avoid a repetition of this situation.
"Following discussion with the management team, we owed it to the players to make this protest as we strongly feel that the game was materially affected."
During the two minutes and 26 seconds Argentina played with 12 men, England conceded a penalty corner, which they successfully defended and counter-attacked.
The extra player left the pitch without notifying the technical table which, according to the rules, would have meant Argentina captain Luca Rey spending five minutes on the sidelines.
Argentina then went on to score two goals as they clinched the bronze medal.