England captain Kate Richardson-Walsh wants Glasgow medal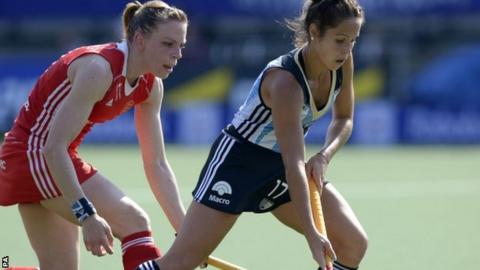 England captain Kate Richardson-Walsh believes her side can bounce back from a difficult World Championships and win a medal at the Commonwealth Games.
They could only finish 11th in the Netherlands despite being ranked third in the world.
"It's been a dark few weeks, it's been really low," the 34-year-old said.
"Each person has had to deal with the disappointment, but I certainly think we can medal in Glasgow and we'll take each game as it comes."
Richardson-Walsh continued: "We have to get back on the horse and drive forward, you don't become a bad team overnight."
Glasgow will be the fourth Commonwealth Games Richardson-Walsh has played in, and it will also be her last international competition.
"There are mixed emotions, I'm really excited to be playing in the Commonwealths again, it's really fun," she added.
"The standard is good and there is always a good atmosphere but being my last international tournament there will be tears for sure.
"I just want to enjoy it and play like it's my first tournament, I remember Manchester in 2002 and it was the most amazing experience."