Champions Trophy: England's George Pinner aims for gold
Last updated on .From the section Hockey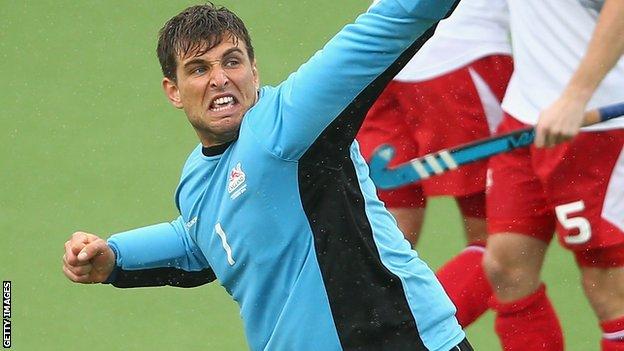 Goalkeeper George Pinner believes the England squad can "go one stage further" and win the Champions Trophy.
England took the bronze medal at Glasgow 2014 after finishing fourth at the World Cup in June.
"We're more than capable of winning a medal and maybe going one stage further," Pinner said.
Pinner and his team-mates face Australia in their opening match at 06:00 GMT on Saturday, 6 December.
He told BBC Sport: "This tournament is a bit of an unknown. We've had a good year and I think we can definitely better how we've done previously in the Commonwealth Games and the World Cup. We can do that in this tournament."
England lost 5-0 to Australia in the World Cup group stages in June and were beaten 4-1 in the semi-final in Glasgow.
"You want to play the top teams because when you come to Olympics and World Cups they're the teams you regularly have to face in the medal games," added Pinner.
Hosts India are in Pool B with Argentina, the Netherlands and reigning Olympic champions Germany.
This year's Champions Trophy sees a new format with matches played in four quarters over 60 minutes, instead of the previous two halves of 35 minutes.
India defeated Pakistan for the Asian Games gold in October under the new format.
Australia, who lost a recent home series to India 3-1, are looking for a sixth consecutive title and 14th overall.
Australian captain Eddie Ockenden said: "We've been experimenting with our sides and have some promising players. The 2012 Champions Trophy in Australia was a great tournament for us and we want to repeat the same success here in Bhubaneswar."
England men's squad for the 2014 Champions Trophy: Alastair Brogdon (Wimbledon), Tom Carson (Reading), Nick Catlin (Holcombe), David Condon (East Grinstead), Adam Dixon (Beeston), Dan Fox (Holcombe), Mark Gleghorne (East Grinstead), Chris Griffiths (East Grinstead), Michael Hoare (Wimbledon), Ashley Jackson (East Grinstead), Iain Lewers (Holcombe), Harry Martin (Beeston), Barry Middleton (Holcombe) George Pinner (Holcombe), Phil Roper (Wimbledon), Patrick Smith (East Grinstead), Henry Weir (Wimbledon), Tim Whiteman (Beeston).