Ulster well represented in Ireland's World League 2 squad
Last updated on .From the section Hockey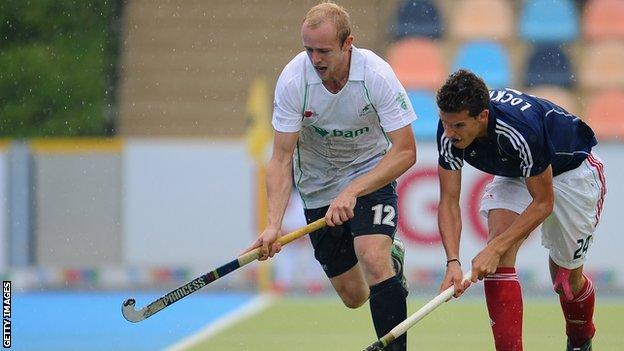 Ireland men's coach Craig Fulton has named a large Ulster contingent in his 18-man squad for the World League 2 tournament later this month.
The squad includes Banbridge quartet Drew Carlisle, Stephen Dowds, Eugene Magee and Bruce McCandless.
Lisnagarvey's Jonathan Bell and Instonians man Paul Gleghorne will travel to San Diego along with English-based John Jackson and Michael Watt.
Peter Caruth and Belgian-based Chris Cargo also make the squad.
Former Annadale man Caruth is now playing for Dublin club Monkstown.
Ireland will face Chile in their opener on Friday 28 February before taking on Austria the following day.
Italy are next for the Irish on 3 March with the quarter-finals down to take place two days later.
The semi-finals and finals take place on 7 and 8 March.
Ireland will be the second highest ranked team in the competition and need to finish in the top three to progress to World League 3.
In final preparation for the US tournament, Ireland will play France in three games in Dublin week.
The games will take place at Three Rock Rovers on 10, 12 and 13 February.
Ireland World League 2 squad
J Bell (Lisnagarvey), D Carlisle (Banbridge), C Cargo (Racing), P Caruth (Monkstown), M Darling (Three Rock Rovers), S Dowds (Banbridge), D Fitzgerald (Monkstown), P Gleghorne (Instonians), R Gormley (Krefeld), D Harte (Kampong), C Harte (Racing), J Jackson (Reading), E Magee (Banbridge), B McCandless (Banbridge), S O'Donoghue (Dragons), Kirk Shimmins (UCD), A Sothern (Racing), M Watt (Surbiton). Non-travelling reserves: J Burton (Three Rock Rovers), N Glassey (Mossley), K Good (Dragons), M Ingram (Pembroke Wanderers), J Lorimer (Lisnagarvey), M Robson (Annadale)