EH Trophy: Guernsey reach semi-finals after shootout
By Brent Pilnick
BBC Sport
Last updated on .From the section Hockey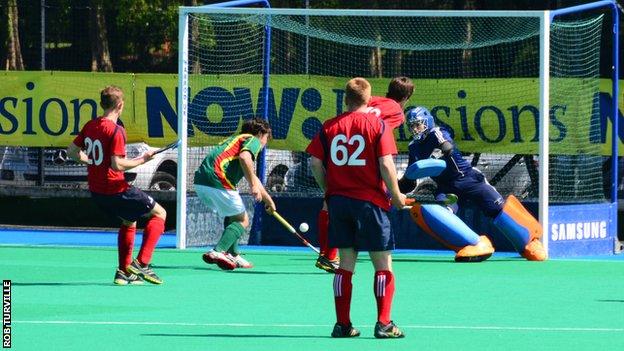 Guernsey are through to the semi-finals of the EH Trophy after a sudden-death penalty shootout win over Stourport.
Goals from Matt Watson and Matt Bain gave the reigning champions an early 2-0 lead, but Stourport scored in either half to take the game to penalties.
Stourport missed their second penalty while Guernsey scored their first four, but Adie Peacegood saw his flick saved and the shootout went to sudden death.
Zak Damerell scored Guernsey's sixth penalty before Stourport missed theirs.
Guernsey will host Didsbury Northern in the semi-finals later this month.
"We had two or three good chances to win the game (before the shootout), but it didn't quite happen," Guernsey player-coach Andy Whalley told BBC Sport.
Guernsey have reached the final of the EH Trophy in each of the last three seasons, but know that they will face a tough task against their opponents from Manchester.
"They've been in a couple of semi-finals, but we've never played them," Whalley said.
"We've had some tough teams this year and they'll be another great side, but it's fantastic to have a home draw. We've just got a new pitch and new stand.
"The guys absolutely love the EH Trophy. They put in so much effort for these games
"It's not like we're dominating it, every game we play is a tough game, but they go the extra mile to make the difference.
"We've had four fantastic seasons and I just hope it can continue."