World League 2: Ireland win latest game in San Diego
Last updated on .From the section Hockey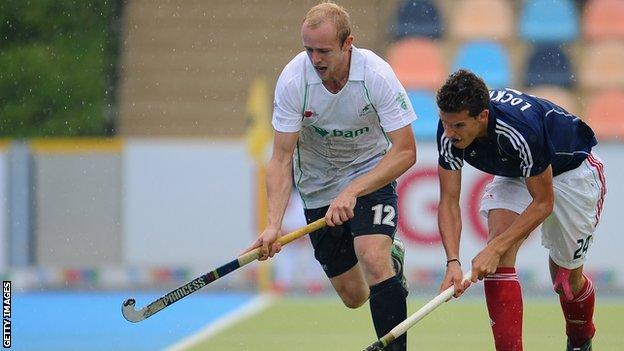 Ireland's men set up a World League 2 quarter-final against Trinidad & Tobago on Thursday as they beat Italy 2-0 in San Diego.
Eugene Magee's early goal and a Shane O'Donoghue effort in the closing stages helped the Irish earn a deserved victory over the Italians.
Magee also had another effort disallowed as the dominant Irish created several other chances.
Italy goalkeeper Francesco Padovani made a number of fine saves.
The win helped Craig Fulton's side top their initial group after their earlier victories over Chile and Austria.
Ireland will be favourites to beat Trinidad in Thursday evening's game in San Diego (16:30 GMT) which will be the first must-win contest of the competition.
Defeat will end their bid for an Olympic ticket while victory will leave the Irish with two shots at finishing in the top three in this competition and advancing to World League 3 where the Rio places will be earned.
The Caribbean country went into the tournament as the second lowest ranked hopefuls.
The semi-finals and finals take place on 7 and 8 March.
Ireland are second highest ranked team in the competition and need to finish in the top three to progress to World League 3.
Speaking after Tuesday's win, Mitch Darling said the Irish were happy to get past a tricky hurdle.
"Italy made things very difficult to be fair to them but we are happy to top the pool and the tournament really starts in earnest on Thursday," added the Ireland player.