World League 2: Ireland beat Austria 2-1 in San Diego final
Last updated on .From the section Hockey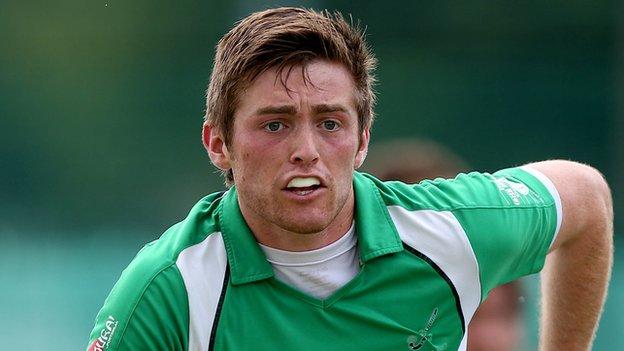 Player of the tournament Shane O'Donoghue was the goalscoring hero as Ireland beat Austria 2-1 in San Diego to win the World League 2 competition.
The victory capped a superb week with a sixth successive success, Ireland scoring 29 goals and conceding five.
Mitch Darling scored a second-minute opener, Michael Korper replied for Austria soon after, but O'Donoghue found the net in the 35th minute.
Ireland will travel to Buenos Aires to compete in World League 3 in June.
As a result of Craig Fulton's side's impressive exploits, they will travel to Argentina to compete for an Olympic berth, the primary goal from this tournament.
Ireland won all the players awards with O'Donoghue, with six key goals, the tournament's top man while David Harte received the goalkeeper prize.
Ireland's semi-final win over Canada meant the pressure was off to some extent with qualification for the next phase of the competition assured and the Irish duly got off to a flyer in the final.
Darling scored when he got on the end of Conor Harte's searching pass but the advantage only lasted a short while as Korper roofed Austria's second penalty corner with just four minutes on the clock as the sides played a much more open tie than when they met in the group stages.
Darling and Bruce McCandless went close to restoring the Irish lead, the former hitting the side-netting early in the second quarter.
Austria, meanwhile, were sitting half-court and playing on the break and looked dangerous on the counter, drawing the best from Harte.
The tie soon got fractious with Chris Cargo, Kirk Shimmins, Patrick Stanzl and Bartosz Szmidt spending time in the sin-bin before half-time.
Three more players shipped green cards in the third quarter while Leon Thornblom took a yellow for a foul on Peter Caruth.
Ireland re-took the lead during this phase from a penalty corner that Harte dummied, allowing the ball to be switched to O'Donoghue who shot through Michael Mantler's defences.
Harte saved an Austrian corner at the far end to retain the narrow lead going into the final quarter. Ireland let one corner slip before Austria got a set piece chance to level the game with four minutes to go but Korper's effort was brilliantly charged down.
Both sides ended with 10 men as Korper and Alan Sothern were shown yellow cards down the final stretch as Ireland closed out the tournament victory.
They can now look forward to a shot at Olympic qualification in Argentina where they will be part of a ten-team tournament with potentially six tickets to Rio de Janeiro on the line.
Ireland: D Harte, J Jackson, R Gormley, M Watt, C Cargo, A Sothern, E Magee, M Darling, P Gleghorne, C Harte, S O'Donoghue
Subs: J Bell, S Dowds, P Caruth, K Shimmins, B McCandless, D Carlisle
Austria: M Mantler, F Zeidler, S Eitenberger, M Korper, D Frohlich, B Szmidt, B Stanzl, F Steyrer, R Bele, M Minar, D Uher
Subs: M Podpera, A Bele, P Schmidt, L Thornblom, P Stanzl, J Heimans
Ireland kept themselves in with a chance of competing at the 2016 Olympics in Rio by beating Canada 2-0.
The result means the Irish progress to World League Three, which is the final qualifying stage.
Two Shane O'Donoghue penalty corners around the 40-minute mark saw Ireland win through to the final of the World League round two in San Diego.
The goals settled an intense battle between the two pre-tournament top-ranked sides.
On a day when Ireland's Chris Cargo made his 100th appearance, the first half was low on chances.
The game was swung dramatically Ireland's way in the 39th minute when a long ball picked out Mitch Darling and he won a corner.
O'Donoghue rocketed his shot to the roof of the net for a precious lead.
Peter Caruth then forced another set piece, drawing a heavy foul from Adam Froese which earned him a yellow card sin-binning.
This time on the switch, O'Donoghue fired home his second goal in a couple of minutes.
Ireland went into the final quarter full of confidence but were unable to convert a couple of corners while another effort was scooped off the Canadian line.
Craig Fulton's side closed out the 2-0 result to earn their place in World League Three, likely to be staged in Argentina.
Ireland will face Austria in Sunday's World League Two final at 22:15 GMT.
Ireland: D Harte, J Jackson, R Gormley, M Watt, C Cargo, A Sothern, E Magee, M Darling, P Gleghorne, C Harte, S O'Donoghue.
Subs: J Bell, S Dowds, P Caruth, K Shimmins, B McCandless, D Carlisle.
Canada: D Carter, B Martin, S Tupper, A Froese, G Johnston, P Wharton, M Pearson, G Ho-Garcia, I Smythe, M Guest, S Panesar.
Subs: D Jameson, B Bissett, M Sarmento, J Smythe, T Curran, D Noronha Teixeira.